What Users Tell Us Interview 18
9th October 1913
Page 7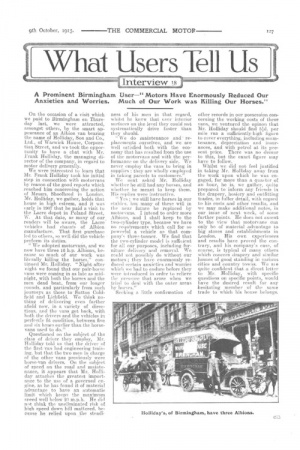 Page 7, 9th October 1913 —
What Users Tell Us Interview 18
Close
A Prominent Birmingham User—" Motors Have Enormously Reduced Our Anxieties and Worries. Much of Our Work was Killing Our Horses."
On the occasion of a, visit which we paid to Birmingham en Thurs day last, we were attracted, amongst others, by the smart appearance of an Albion van bearing the name of Holliday, Son and Co., Ltd., of Warwick House, Corporation Street, and we took the oppor tunity to have a. chat with Mr. Frank Holliday, the managing director of the company, in regard to motor delivery generally. We were interested to learn that Mr. Frank Holliday took his initial step in connection with motorvans by reason of the good reports which reached him concerning the action of Messrs. Shoolbred in London.
Mr. Holiday, we gather, holds that house in high esteem, and it was
early in 1907 that he paid a visit to the Lacre depot in Poland Street, W. At that date, as many of our readers will be aware, the Lacrevehicles had chassis of Albion manufacture. That first purchase led to others, so well did the vehicle perform its duties.
"We adopted motorvans, and we now have three 10 h.p. Albions, be cause so much of our work was literally killing the horses," continued Mr. Holliday. "Night after night we found that our pair-horse vans were coming in as late as midnight, with both the horses and the men dead beat, from our longer
rounds, and particularly from such journeys as those to -Sutton Cold
field and Lichfield. We think no thing of delivering even farther afield now, in a variety of direc tions, and the vans get back, with both the drivers and the vehicles in perfectly fit condition, between five and six hours earlier than the horsevans used to do."
Questioned on the subject of the class of driver they employ, Mr.
Holliday told us that the driver of the first van had engineering training, but that the two men in charge of the other vans previou.sly were horse-Van drivers. On the subject of speed on the road and mainte nance it appears that Mr. Holli day Laches the greatest. importance to the use of a governed en
gine, as he has found it of material advantage to have an automatic limit . which keeps the maximum speed well below 20 m.p.h. He did not think the uneliminated risk of. high speed down hill mattered, because he relied upon.. the steadi ness of his men in that regard, -whilst he knew that over interior surfaces on the level they could not systematically drive faster than they should.
" We do maintenance and ' replacements ourselves, and we are well satisfied both with the economy that has resulted from. the use of the motorvaes and with the performance on the delivery side. We never employ the vans to bring in supplies ; they are wholly employed in taking parcels to customers." We next asked Mr. Holliday 'whether he still had any horses, and whether he meant to keep them. His replies were instructive.
" Yes ; we still have horses in our stables, but. many of these will in the near future be . replaced by motorvans. I intend to order more Albions, and I shall keep to the two-cylinder type, because we have no requirements which call for so powerful a vehicle as that company's three-tonner. We find that the two-cylinder model is sufficient for all our purposes, including furniture delivery and removal. We could not possibly do without our motors ; they have enormously reduced certain anxieties and worries which we had to endure before they were jot roduced in order to relieve the pressure that arose when we :tried to deal with the outer areas by horses."
Seeking a. little confirmation of other records in our possession concerning the working costs of these vans we ventured the opinon that Mr. Holliday should find 51d. per mite run a sufficiently-high figure to cover everything, including maintenance, depreciation and insurances, and with petrol at its present price. There was no demur to this, but the exact figure may have to follow.
Whilst we did not feel justified in taking Mr. Holliday away from the work upon which he was engaged, for more than a quaater of an hour, he is, we gather, quite prepared to inform any friends in the drapery, hosiery and outfitting trades, in fuller detail, with regard to. his costs and other results, and we may make additional notes, in our issue of next week, of some further points. He does not assent to the view that motorvaxis can only be of material advantage to big stores and establishments in London. His own experiences and results have proved the eontrary, and his company's case, of course, is typical of many others which concern drapery and similar houses of good standing in various cities and country towns. We are quite confident that a direct letter to Mr. Holliday, with specific questions on specific points, would have the desired result for any hesitating member of the same trade to which his house belongs.