Fr 0 m Drivers &Mecham s cs TEN SHILLINGS WEEKLY is paid
9th October 1913
Page 18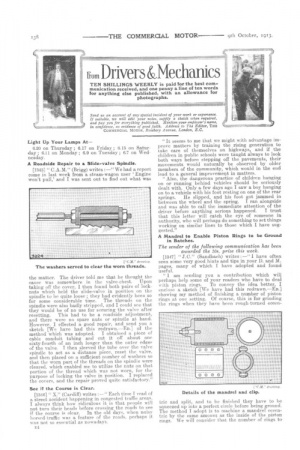 Page 19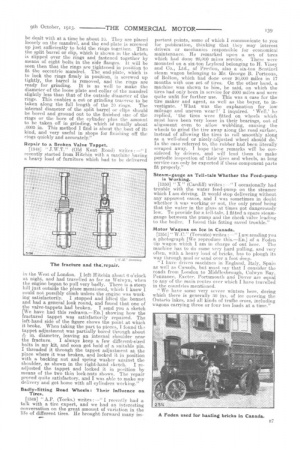 Page 18, 9th October 1913 —
Fr 0 m Drivers &Mecham s cs TEN SHILLINGS WEEKLY is paid
Close
for the best communication received, and one penny a line of ten words for anything else published, with an allowance for photographs.
Send us an account of any special incident of your work or experience. If suitable, we will edit your notes, supply a sketch when required, and pay you for everything published. Mention your employer's name, in confidence, as evidence of good faith. Address to The Editor, THE COMMERCIAL MOTOR, Rosebery Avenue, London, E.G.
Light Up Your Lamps At 6.20 on Thursday ; 6.17 on Friday ; 6.15 on Saturday; 6.11 on Monday ; 6.9 on Tuesday ; 6.7 on Wed nesday.
A Roadside Repair to a Slide-valve Spindle.
[1345] " C.A.M." (Brigg) writes :—" We had a report come in last week from a steam-wagon user Engine won't pull,' and I was sent out to find out what was the matter. The driver told me that he thought the cause was somewhere in the valve-chest. Upon taking off the cover, I then found both pairs of locknuts which held the slide-valve in position on the spindle to be quite loose ; they had evidently been so for some considerable time. The threads on the spindle were also badly stripped, and I could see that they would be of no use for securing the valve after resetting. This had to be a roadside adjustment, and there were no spare nuts or spindle at hand. However, I effected a, good repair, and send you a sketch [We have had this redrawn.—Fni of the method which was adopted. I obtained a piece of cable conduit tubing and cut it off about one sixty-fourth of an inch longer than the outer edges of the valve. I then sleeved the tube over the valve spindle to act as a distance piece, reset the valve, and then placed on a sufficient number of washers so that the worn part of the threads on the spindle were cleared, which enabled me to utilize the nuts on that portion of the thread which was not worn, for the purpose of locking the valve in position. I replaced the covers, and the repair proved quite satisfactory."
See if the Course is Clear.
[1346] " X." (Cardiff) writes :—" Each time T read of a street accident happening in congested traffic areas. I always think how ridiculous it is that people will not turn their heads before crossing the roads to see if the course is clear. In the old days, when noisy horsed-traffic was a feature of the roads, perhaps it was not so essential as nowadays.
E4
"It seems to me that we might with advantage improve matters by training the rising generation to take care of themselves on highways, and if the children in public schools were taught always to look both ways before stepping off the pavements, their movements would naturally be observed by older members of the community, which would in the end lead to a general improvement in matters. "Also, the dangerous practice of children hanging on or running behind vehicles should be seriously dealt with. Only a few days ago I saw a boy hanging on to a, vehicle with his foot resting on one of the rear springs. He slipped, and his foot got jammed in between the wheel and the spring. I ran alongside and was able to call the immediate attention of the
driver before anything serious happened. I trust that this letter will catch the eye of someone in authority, who will perhaps do something to set things working on similar lines to those which I have suggested."
A Mandrel to Enable Piston Rings to be Ground in Batches.
The sender of the following eommwnication has been awarded the 108, prize this week.
[1347] " J.C." (Sandbach) writes :—" I have often seen some very good hints and tips in your D. and Mpages, many of which I have adopted and found useful.
"1 am sending you a contribution which will Perhaps help some of your readers who have to deal with piston rings.. To convey the idea better, I enclose a sketch [We have had this redrawn.—En.] showing my method of finishing a number of piston rings at one setting. Of course, this is for grinding the rings when they have been rough-turned eceen
be dealt with at a time be about 10. They are placed loosely on the mandrel, and the end-plate is screwed up just sufficiently to hold the rings together. Then the split barrel or clip, which is shown in the sketch, is slipped over the rings and fastened together by means of eight bolts in the side flanges. It will be seen then that the rings are tightened in position to lit the eccentric mandrel. The end-plate, which is to lock the rings firmly in position, is screwed up tightly, the barrel is removed, and the rings are ready for grinding. It is as well to make the diameter of the loose plate and collar or the mandrel slightly less than that of the outside diameter of the rings. This enables a cut or grinding traverse to be taken along the full length of the 10 rings. The internal diameter of the split barrel or clips should be bored and ground out to the finished size of the rings or the bore of the cylinder plus the amount to be taken off in grinding, which is, usually about .0005 in. This method I find is about the best of its kind, and very useful in shops for finishing off the rings quickly and accurately."
Repair to a Broken Valve Tappet.
[1348] " J.W.T." (Old Kent Road) writes :—" I recently started from Hitchin with a machine having a heavy load of furniture which had to be delivered
in the West of London. I left Hitchin about 0 o'clock at night, and had travelled as far as Welwyn, when the engine began to pull very badly. There is a steep hill just outside the place mentioned, which I knew I could not possibly climb unless the engine was working satisfactorily. I stopped and lifted the bonnet and had a general look round, and found that one of the valve-tappets had broken. I send you a sketch [We have had this redrawn.--ED.] showing how the fractured tappet was satisfactorily repaired. The left-hand side of the figure shows the point at which it broke. When taking the part to pieces, I found ths tappet adjustment was partially bored through about
in. diameter, leaving an internal shoulder near
the fracture. I always keep a few different-sized bolts in my kit, and soon got hold of a suitable pin. I threaded it through the tappet adjustment at the place where it was broken, and locked it in position with a backing nut and spring washer against the shoulder, as shown in the right-hand sketch. I readjusted the tappet and locked it in position by means of the two thin lock-nuts shown. The repair proved quite satisfactory, and I was able to make my delivery and get home with all cylinders working."
Badly-fitting Road Wheels: Their Influence on Tires.
11349] " A.P. (Yorks.) writes :—" I recently had a talk with a tire expert, and we had an interesting conversation on the great amount of variation in the life of different tires. He brought forward many im portant points, some of which I communicate to you for publication, thinking that they may interest drivers or mechanics responsible for economical maintenance. He remarked upon a set of tires which had done 20,000 miles service. These were mounted on a six-ton Leyland belonging to H. Viney and Co., Ltd., of Preston, also a six-ton Sentinel steam wagon belonging to Mr. George B. Porteous, of Bolton, which had done over 20,000 miles in 17 months with one set of tires. On the other hand, a maalaine, was shown to him, he said, on which the tires had only been in service for 4000 miles and were quite unfit for further use. This was a case for the tire maker and agent, as well as the buyer, to investigate. 'What was the explanation for low
mileage and uneven wear? ' I inquired. Well,' he replied, 'the tires were fitted on wheels which must have been very loose in their bearings, out of alignment even to allow wobbling, causing the wheels to grind the tire away along the road surface, instead of allowing the tires to roll smoothly along as a. well-shod or nicely-adjusted wheel should do.' In the ease referred to, the rubber had been literally scraped away. I hope these remarks will be considered by drivers, and will lead them to make periodic inspection of their tires and wheels, as long service can only be expected if these component parts fit properly."
Steam-gauge as Tell-tale Whether the Feed-pump is Working.
[1350] " X " (Cardiff) writes :—" I occasionally had trouble with the water feed-pump on the steamer which I am driving. It would stop delivering without any apparent cause, and I was sometimes in doubt whether it was working or not, the only proof being that the water in the glass at times got dangerously low. To provide for a tell-tale. I fitted a spare steamgauge between the pump and the check valve leading to the boiler. I found this fitting saved trouble."
Motor Wagons on Ice in Canada.
[1351] " W.C." (Toronto) writes : —" I am sending you a photograph [We reproduce this.—En.] of a Foden tip wagon which I am in charge of out here. The machine has to do some very hard pulling, and very often, with a heavy load of bricks, has to plough its way through mud or sand over a foot deep.
"I have driven machines in England, Italy, Spain as well as Canada, but must say that I .consider the roads from London to Middlesbrough, Colwyn Bay, Penzance, Exeter. Portsmouth and Dover are equal to any of the main routes over which I have travelled in the countries mentioned_
"We have some very severe winters here, during which there is generally 30 ins. of iee covering the Ontario lakes, and all kinds of traffic; cross, including wagons carrying three or four ton loads at a time."