Where Shall I Deal The Editor, THE COMMERCIAL MOTOR.
9th October 1913
Page 16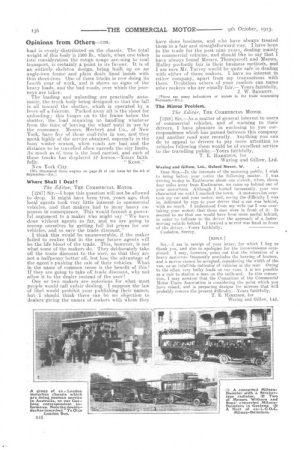 Page 16, 9th October 1913 —
Where Shall I Deal The Editor, THE COMMERCIAL MOTOR.
Close
[1247] Sir,—I hope this question will not be allowed to drop. It might have been true, years ago, that local agents took very little interest in commercial vehicles, .and that, makers had to incur heavy expenses in consequence. This would furnish a powerful argument to a maker who might say "We have done without agents so far, and we are going to recoup ourselves by getting full list prices for our vehicles, and so save the trade discount."
I think this would be unanswerable, if the maker failed to realize that in the near future agents will be the life blood of the trade. This, however, is not what some of the makers do. They deliberately take Off the trade discount to the user, so that they are not a halfpenny better off, but lose the advantage of the agent's pushing the sale of their vehicles. What in the name of common sense is the benefit of this ? If they are going to take off trade discount, why not allow it to the dealer instead of the user?
One or two makers are notorious for what most people would call unfair dealing. I suppose the law of libel would prohibit your publishing their names, brit I should think there can be no objection to dealers giving the names of makers with whom they have done business, and who have always treated them in a fair and straightforward way. I have been in the trade for the past nine years, dealing mainly in commercial vehicles, and should like to say that I have always found Messrs. Thornyeroft and Messrs.Halley perfectly fair in their business methods, and I am sure Mr. Turvey would be quite safe in dealing with either of these makers. I have no interest in either company, apart from my transactions with them. Doubtless others of your readers can name other makers who are equally fair.— Yours faithfully,
[There are nanny indications of unrest in the trade concerning discounts.—ED.j.