Opinions from Others—con.
9th October 1913
Page 16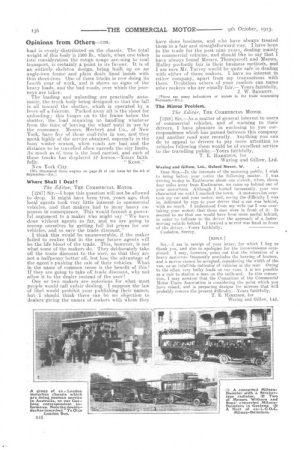 Page 16, 9th October 1913 —
Opinions from Others—con.
Close
load is evenly distributed on the chassis. The total weight of this body is 1300 lb., which-, when one takes into consideration the rough usage -acciuing to coal transport, is certainly a point in its favour. It is of an entirely skeleton design, being built up on an angle-iron frame and plain deals lined inside with thin sheet-iron. One of these trucks is now doing its fourth year of work, and it shows no signs of the heavy loads, and the bad roads, over which the journeys are taken.
. The loading and unloading are practically automatic:, the truck body being designed so that the fall is all toward the shutter, which is operated by a lever off a fulcrum. Packed away aft is the shoot for unloading ; this hinges on to the frame below the shutter, the load requiring no handling whatever from the time of leaving the wharf until in use by the consumer. Messrs. Herbert and Co., of New York, have five of these coal-tubs in use, and they speak highly of the service obtained, especially in the busy winter season, when roads are bad and the distance to be havelled often exceeds the city limits. As much as 61 tons is the load carried, and each of these trucks has displaced 12 horses.--Yours faith fully. " KOSH." ew York City.
We illustrated these wagons on page 10 of our issue for the 4113 of September—ED.].