Are Tractors too Powerful?
9th October 1913
Page 15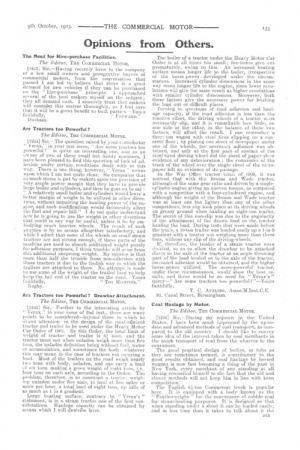 Page 15, 9th October 1913 —
Are Tractors too Powerful?
Close
The Editor, THE COMMERCIAL MOTOR.
[1244] Sir,--The question raised by your contributor " Verax," in your last issue, Are some tractors too .powerful?'' is quite an interesting one, and as an owner of two of these small but handy machines, 1 have been pleased to find this question of lack of adhesion under certain conditions dealt with in this way. There is one thing, however, " .Verax " writes upon which I am not quite clear. He complains that SO much stress is put by makers upon the provision of very ample power margin that they have to provide large boiler and cylinders, and then he goes on to say : " A relatively small boiler and cylinders would leave a better margin of weight to be utilised in other directions, without impairing the hauling power of the engine, and such modifications would favourably affect the fuel and repair bill." I do not quite understand how he is going to use the weight in other directions that could in any way be useful, unless it be by embodying much heavier wheels. The result of such practice is by no means altogether satisfactory, and while I admit that some of the wheels on small steam tractors are not strong enough, if these parts of the machine are used to absorb additional weight purely for adhesion purposes, T think trouble will a-rise from this additional unsprung weight. My opinion is that more than half the trouble from non-adhesion with these tractors is due to the foolish way in which the trailers are attached to them. No attempt is made to use some of the weight of the trailed load to help keep the tail end of the tractor on the road.----Yours f i thfully, " TOT HOMINES." Rugby.