Out and Home. —By "The Extractor."
9th October 1913
Page 13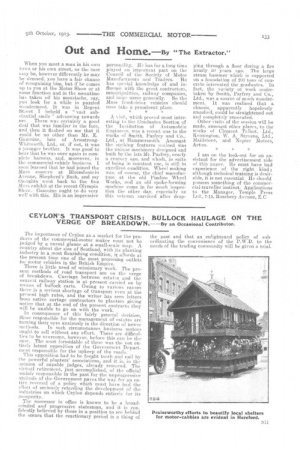 Page 13, 9th October 1913 —
Out and Home. —By "The Extractor."
Close
When you meet a man in his own town or his own street, as the case may be, however differently he may be dressed, you have a fair chance of recognizing him, but if he comes up to you at the Motor Show or at souse function and, in the meantime has taken off his moustache, say, you look for a while in puzzled wonderment. It was in Regent Street. I beheld a "vast substantial smile " advancing towards me. There was certainly a good deal that was familiar in the face, and then it flashed an me that it could be no other than Mr. E. Gascoine, late of ArmstrongWhitworth. Ltd., or, if not, it was a younger brother. It was good to hear that he was once again in complete harness, and, moreover, in the commercial-vehicle business. I soon learned that he had joined the Mass concern at Bloemfontein Avenue, Shepherd's Bush, and my thoughts went back to the fine Mass exhibit at the recent Olympia Show. Gascoine ought to do very well with this. His is an impressive personality. He has for a long time played an important part on the Council of the Society of Motor Manufacturers and Traders. He has special knowledge of and influence with the great contractors, municipalities, railway companies, and large users generally. So the Mass front-drive vehicles should soon take a prominent place.
A visit, which proved most interesting to the Graduates Section of the institution of Automobile Engineers. Was a recent one to the works of Smith, Parfrey and Co., Ltd., at Hammersmith. Amongst the striking features policed was the unique machinery designed and built by the late Mr. Pail rey, nearly a century ago, and which, in spite of being in constant use, is still in excellent condition. Wheel making was. of course, the chief manufacture at the old Pimlico Wheel Works, and an old spoke-forming machine came in for much inspection the other day, especially as this veteran survived after drop
ping through a floor during a fire nearly Is0 years ago. The large steam hammer which is supported on a foundation of 200 tons of concrete interested the graduates. In fact, the variety of work undertaken by Smith, Parfrey and Co., Ltd., was a source of much wonderment. It was realized that a, chassis, apparently hopelessly smashed, could be straightened out and completely renovated. Other visits of the session will be made, amongst other places, to the works of Clement Talbot, Ltd., Kensington, W. A. Stevens, Ltd., Maidstone, and Napier Motors, Acton.
I am on the look-out for an assistant for the advertisement side of this paper. He must have had experience of the right kind ; although technical training is desirable, it is not essential. He should possess something of the commercial-traveller instinct. Applications to the Manager, Temple Press Ltd., 7-15, Rosebery Avenue, E.0