lothballed fleet _ady for action
7th March 1975
Page 61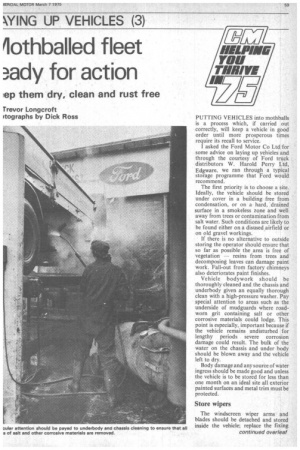 Page 62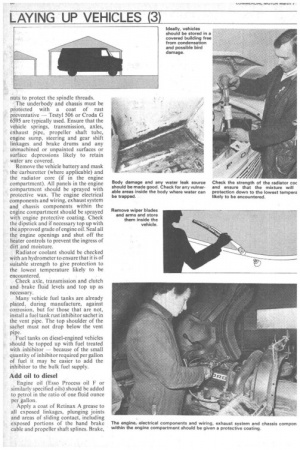 Page 63
Page 61, 7th March 1975 —
lothballed fleet _ady for action
Close
Keywords :
Transport
,
Mechanical Engineering
,
Technology
,
Rechargeable Batteries
,
Dodge Ram
,
Recreational Vehicle
,
Radiator
,
Automotive Battery
,
Vehicle
,
Air Brake
,
Diesel Engine
,
Internal Combustion Engine
ep them dry, clean and rust free
Trevor Longcroft otographs by Dick Ross
PUTTING VEHICLES into mothballs is a process which, if carried out correctly, will keep a vehicle in good order until more prosperous times require its recall to service.
I asked the Ford Motor Co Ltd for some advice on laying up vehicles and through the courtesy of Ford truck distributors W. Harold Perry Ltd, Edgware, we ran through a typical storage programme that Ford would recommend.
The first priority is to choose a site Ideally, the vehicle should be stored under cover in a building free from condensation, or on a hard, drained surface in a smokeless zone and well away from trees or contamination from salt water. Such conditions are likely to be found either on a disused airfield or on old gravel workings.
If there is no alternative to outside storing the operator should ensure that so far as possible the area is free of vegetation — resins from trees and decomposing leaves can damage paint work. Fall-out from factory chimneys also deteriorates paint finishes.
Vehicle bodywork should be thoroughly cleaned and the chassis and underbody given an equally thorough clean with a high-pressure washer. Pay special attention to areas such as the underside of mudguards where roadworn grit containing salt or other corrosive materials could lodge. This point is especially, important because if the vehicle remains undisturbed for lengthy periods severe corrosion damage could result. The bulk of the water on the chassis and under body should be blown away and the vehicle left to dry.
Body damage and any source of water ingress should be made good and unless the vehicle is to be stored for less than one month on an ideal site all exterior painted surfaces and metal trim must be protected.
Store wipers
The windscreen wiper arms and • blades should be detached and stored miler attention should be payed to underbody ana chassis cleaning to ensure that all inside the vehicle; replace the fixing s of salt and other corrosive materials are removed, continued overleaf nuts to protect the spindle threads.
• The underbody and chassis must be protected with a coat of rust preventative — Testyl 506 or Croda G 6595 are typically used. Ensure that the vehicle springs, transmission, axles, exhaust pipe, propeller shaft tube, engine sump, steering and gear shift linkages and brake drums and any unmachined or unpainted surfaces or surface depressions likely to retain water are covered.
Remove the vehicle battery and mask the carburetter (where applicable) and the radiator core (if in the engine compartment). All panels in the engine compartment should be sprayed with protective wax. The engine electrical components and wiring, exhaust system and chassis components within the engine compartment should be sprayed with engine protective coating. Check the dipstick and if necessary top up with the approved grade of engine oil. Seal all the engine openings and shut off the heater controls to prevent the ingress of dirt and moisture.
Radiator coolant should be checked with an hydrometer to ensure that it is of suitable strength to give protection to the lowest temperature likely to be encountered. • Check axle, transmission and clutch and brake fluid levels and top up as necessary.
Many vehicle fuel tanks are already plated, during manufacture, against corrosion, but for those that are not, install a fuel tank rust inhibitor sachet in the vent pipe. The top shoulder of the sachet must not drop below the vent Pipe. Fuel tanks on diesel-engined vehicles should be topped up with fuel treated with inhibitor — because of the small quantity of inhibitor required per gallon of fuel it may be easier to add the inhibitor to the bulk fuel supply.
Add oil to diesel
Engine oil (Esso Process oil F or similarly specified oils) should be added to petrol in the ratio of one fluid ounce per gallon. Apply a coat of Retinax A grease to all exposed linkages, plunging joints and areas of sliding contact, including exposed portions of the hand brake cable and propeller shaft splines. Brake, clutch and throttle linkages should be completely covered to prevent water contamination.
If the vehicle is fitted with vacuum brakes the vacuum should be released by depressing the brake pedal several times with the engine switched off. Reservoirs on vehicles with air brakes should be exhausted via the draincock, which should be left in the open position. Chock the wheels and release the park brake.
Inflate the vehicle tyres to 0.7 kg/ sqcm (10 psi) above the recommended pressure. Vehicles fitted with ram-actuated power assisted steering should be parked with the steering on full lock so that the ram is not left exposed to the elements.
A useful hint for tipper men is to place a 152mm (6in) block of wood under each body landing pad. This enables rain water to drain away — make sure that the railgate is left slightly ajar and that the exposed part of the ram is protected with Retinax A grease.
Top up battery
An external check for cracks, terminal post fixing and general condition should be made on the battery, which should be topped up to the required level with distilled water and then bench charged at the normal rate. Charging should continue until the electrolyte specific gravity in each cell remains constant for five consecutive hours. At normal temperatures the specific gravity of fully charged electrolyte should be between 1.27 and 1.285.1n order to keep the battery in good condition it should be partially discharged and recharged at about one-month intervals after charging clean the battery terminals and leads and apply a thin film of petroleum jelly. It is not advisable to add distilled water to a battery during cold weather except just before charging.
After a vehicle has been in store for about three months the engine and transmission must be run for at least 30 minutes including a three-mile drive.
Unseal all the engine apertures and remove the protective coatings from the propeller shaft universal joints and exposed areas of the handbrake cable. Close the braking system, replace the battery, reduce tyre pressure to the recommended figure and check all oil and hydraulic fuel levels.
If the engine is fitted with a turbocharger and the vehicle has been stored for around three months it is advisable to prime the turbocharger before starting the engine. The priming process for Ford engines is to remove the oilpressure gauge sender unit and inject at least 1.2 litres (2 pints) of clean engine oil into the main oil gallery with a suitable syringe.
Refit the sender unit and start the engine which should be allowed to idle at below 1,000 rpm for a clear 30 seconds with the vehicle stationary. Then the vehicle may be operated normally provided that the engine oil level has been checked and any excess drained off. After the short road section, return the vehicle to the storage area and make good all protective coatings.