reign tippers
7th March 1975
Page 51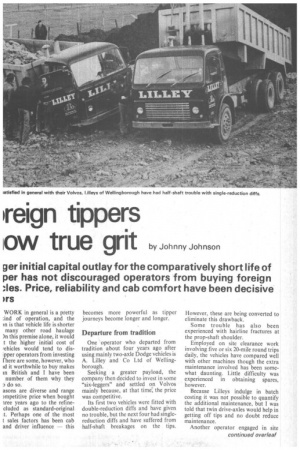 Page 52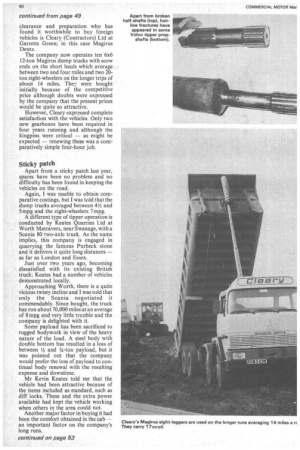 Page 55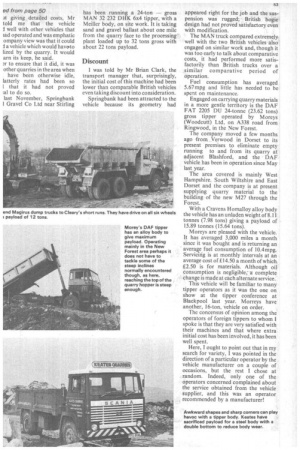 Page 51, 7th March 1975 —
reign tippers
Close
IOW true grit by Johnny Johnson
ger initial capital outlay for the comparatively short life of per has not discouraged operators from buying foreign :les. Price, reliability and cab comfort have been decisive )rs
WORK in general is a pretty :ind of operation, and the )n is that vehicle life is shorter many other road haulage )n this premise alone, it would t the higher initial cost of /chides would tend to disLpper operators from investing [here are some, however, who id it worthwhile to buy makes in British and I have been number of them why they D do so.
asons are diverse and range )mpetitive price when bought lree years ago to the refineeluded as standard-original .t. Perhaps one of the most t sales factors has been cab and driver influence — this becomes more powerful as tipper journeys become longer and longer.
Departure from tradition
One operator who departed from tradition about four years ago after using mainly two-axle Dodge vehicles is A. Lilley and Co Ltd of Wellingborough.
Seeking a greater payload, the company then decided to invest in some "six-leggers" and settled on Volvos mainly because, at that time, the price was competitive.
Its first two vehicles were fitted with double-reduction diffs and have given no trouble, but the next four had singlereduction diffs and have suffered from half-shaft breakages on the tips. However, these are being converted to eliminate this drawback.
Some trouble has also been experienced with hairline fractures at the prop-shaft shoulder.
Employed on site clearance work involving five or six 20-mile round trips daily, the vehicles have compared well with other machines though the extra maintenance involved has been somewhat daunting. Little difficulty was experienced in obtaining spares, however.
Because Lilleys indulge in batch costing it was not possible to quantify the additional maintenance, but I was told that twin drive-axles would help in getting off tips and no doubt reduce maintenance.
Another operator engaged in site clearance and preparation who has found it worthwhile to buy foreign vehicles is Cleary (Contractors) Ltd at Garretts Green; in this case Magirus Deutz.
The company now operates ten 6x6 12-ton Magirus dump trucks with scow ends on the short hauls which average between two and four miles and two 20ton eight-wheelers on the longer trips of about 14 miles. They were bought initially because of the competitive price although doubts were expressed by the company that the present prices would be quite so attractive.
However. Cleary expressed complete satisfaction with the vehicles. Only two new gearboxes have been required in four years running and although the kingpins were critical — as might be expected renewing these was a comparatively simple four-hour job.
Sticky patch
Apart from a sticky patch last year, spares have been no problem and no difficulty has been found in keeping the vehicles on the road.
Again, I was unable to obtain comparative castings, but I was told that the dump trucks averaged between 41,6 and 5 mpg and the eight-wheelers 7 mpg.
A different type of tipper operation is conducted by Keates Quarries Ltd at Worth Matravers, near Swanage, with a Scania 80 two-axle truck. As the name implies, this company is engaged in quarrying the famous Purbeck stone and it delivers it quite long distances — as far as London and Essex.
Just over two years ago, becoming dissatisfied with its existing British truck; Keates had a number of vehicles demonstrated locally.
Approaching Worth, there is a quite vicious twisty incline and I was told that only the Scania negotiated it commendably. Since bought, the truck has run about 70,000 miles at an average of 8 mpg and very little trouble and the company is delighted with it.
Some payload has been sacrificed to rugged bodywork in view of the heavy nature of the load. A steel body with double bottom has resulted in a loss of between 1/2 and 34-ton payload, but it was pointed out that the company would prefer the loss of payload to continual body renewal with the resulting expense and downtime.
Mr Kevin Keates told me that the vehicle had been attractive because of the items included as standard, such as diff locks. These and the extra power available had kept the vehicle working when others in the area could not.
Another major factor in buying it had been the comfort obtained in the cab — an important factor on the company's long runs.
continued on page 53
it giving detailed costs, Mr told me that the vehicle i well with other vehicles that lad operated and was emphatic ompany view was that it could i a vehicle which would havevto lized by the quarry. It would am n its keep, he said.
mto ensure that it did, it was other quarries in the area when have been otherwise idle, latterly rates had been so that it had not proved al to do so.
last November, Springbank Gravel Co Ltd near Stirling has been running a 24-ton — gross MAN 32 232 DHK 6x4 tipper, with a Meiller body, on site work. It is taking sand and gravel ballast about one mile from the quarry face to the processing plant loaded up to 32 tons gross with about 22 tons payload.
Discount
I was told by Mr Brian Clark, the transport manager that, surprisingly, the initial cost of this machine had been lower than comparable British vehicles even taking discount into consideration.
Springbank had been attracted to the vehicle because its geometry had appeared right for the job and the suspension was rugged; British bogie design had not proved satisfactory even with modification.
The MAN truck compared extremely well with the two British vehicles also engaged on similar work and, though it was too early to talk about comparative costs, it had performed more satisfactorily than British trucks over a similar comparative period of operation.
Fuel consumption has averaged 5.67mpg and little has needed to be spent on maintenance.
Engaged on carrying quarry materials in a more gentle territory is the DAF FAT 2205 DU 24-tonne (23.62 tons) gross tipper operated by Moreys (Woodcutt) Ltd, on A338 road from Ringwood, in the New Forest.
The company moved a few months ago from_ Verwood in Dorset to its present premises to eliminate empty running to and from its quarry at adjacent Blashford, and the • DAF vehicle has been in operation since May last year.
The area covered is mainly West Hampshire. South Wiltshire and East Dorset and the company is at present supplying quarry material to the building of the new M27 through the Forest.
With a Cravens Homan oy alloy body the vehicle has an unladen weight of 8.11 tonnes (7.98 tons) giving a payload of • 15.89 tonnes (15.64 tons).
Moreys are pleased with the vehicle. It has averaged 3,000 miles a month since it was bought and is returning an average fuel consumption of 10.4mpg. Servicing is at monthly intervals at an average cost of 14.50 a month of which £2.50 is for materials. Although oil consumption is negligible,a complete change is made at each alternate service.
This vehicle will be familiar to many tipper operators as it was the one on show at the tipper conference at Blackpool last year. Morreys have another, 16-ton, vehicle on order.
The concensus of opinion among the operators of foreign tippers to whom I spoke is that they are very satisfied with their machines and that where extra initial cost has been involved, it has been well spent.
Here, I ought to point out that in my search for variety, I was pointed in the direction of a particular operator by the vehicle manufacturer on a couple of occasions, but the rest I chose at random. Indeed, only one of the operators concerned complained about the service obtained from the vehicle supplier, and this was an operator recommended by a manufacturer!