The benefit and the pitfall of foreign pani
7th March 1975
Page 46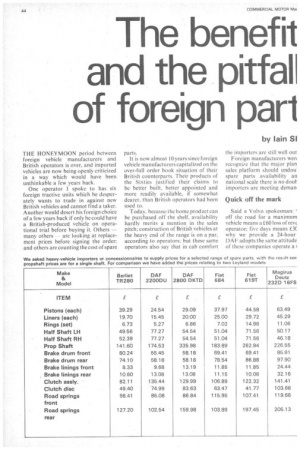 Page 47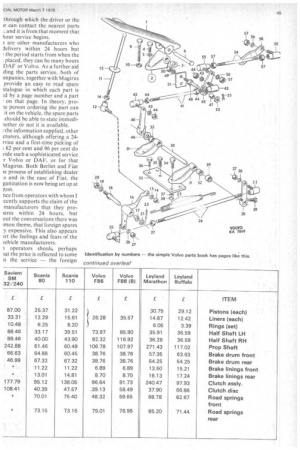 Page 48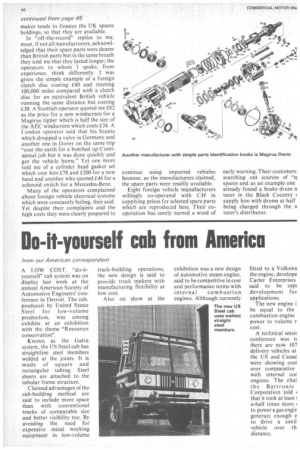 Page 46, 7th March 1975 —
The benefit and the pitfall of foreign pani
Close
by lain SI
THE HONEY MOON period between foreign vehicle manufacturers and British operators is over, and imported vehicles are now being openly criticized in a way which would have been unthinkable a few years back.
One operator I spoke to has six foreign tractive units which he desperately wants to trade in against new British vehicles and cannot find a taker. Another would desert his foreign choice of a few years back if only he could have a British-produced vehicle on operational trial before buying it. Others -
many others are looking at replacement prices before signing the order; and others are counting the cost of spare
parts.
It is now almost 10 years since foreign vehicle manufacturers capitalized on the over-full order book situation of their British counterparts. Their products of the Sixties justified their claims to be better built, better appointed and more readily available, if somewhat dearer, than British operators had been used to.
Today, because the home product can be purchased off the shelf, availability hardly merits a mention in the sales pitch; construction of British vehicles at the heavy end of the range is on a par, according to operators; but these same operators also say that in cab comfort the importers are still well out
Foreign manufacturers wen recognize that the major plan sales platform should undou. spare parts availability an national scale there is no douh importers are meeting dernan,
Quick off the mark
Said a Volvo spokesman: ' off the road for a maximum vehicle means a E60 loss of revc operator; five days means E3C why we provide a 24-hour DAF adopts the same attitude of these companies operate a 1 through which the driver or the ncan contact the nearest parts :, and it is from that moment that hour service begins.
are other manufacturers who delivery within 24 hours but the period starts from when the placed, they can be many hours DAF or Volvo. As a further aid ding the parts service, both of )mpanies, together with Magirus provide an easy to read spare ltalogue in which each part is by a page number and a part
• on that page. In theory, prole person ordering the part can it on the vehicle, the spare parts should be able to state immedilether or not it is available.
the information supplied, other cturers, although offering a 24rvice and a first-time picking of I 82 per cent and 96 per cent do vide such a sophisticated service Volvo or DAF. or for that Vlagirus. Both Berliet and Fiat ie process of establishing dealer :s and in the case of Fiat, the ganization is now being set up at ;ton.
nce from operators with whom 1 !cently supports the claim of the manufacturers that they pro'arcs within 24 hours, but out the conversations there was imon theme, that foreign spares -y expensive. This also appears )rt the feelings and fears of the vehicle manufacturers.
1 operators shouk perhaps lat the price is reflected to some n the service the foreign maker tends to finance the UK spares holdings, so that they are available.
In "off-the-record" replies to me, most, if not all manufacturers. acknowledged that their spare parts were dearer than British parts but in the same breath they told me that they lasted longer; the operators to whom I spoke, from experience, think differently. I was given the simple example of a foreign clutch disc costing £40 and running 100,000 miles compared with a clutch disc for an equivalent British vehicle running the same distance but costing £30. A Scottish operator quoted me E82 as the price for a new windscreen for a Magirus tipper which is half the size of the AEC windscreen which costs £24. A London operator said that his Scania which dropped a valve in Germany and another one in Dover on the same trip "cost the earth for a botched up Continental job but it was done quickly and got the vehicle home." Yet one more told me of a cylinder head gasket set which cost him £78 and £200 for a new head and another who quoted E46 for a solenoid switch for a Mercedes-Benz.
Many of the operators complained about foreign vehicle electrical systems which were constantly failing, they said. Yet despite their complaints and the high costs they were clearly prepared to continue using imported vehicles because, as the manufacturers claimed, the spare parts were readily available.
Eight foreign vehicle manufacturers willingly co-operated with CM in supplying prices for selected spare parts which are reproduced here. Their cooperation has surely earned a word of early warning. Their customers searching out sources of "si spares and as an example one already found a brake drum n turer in the Black Country I supply him with drums at half being charged through the n turer's distributor.