@ugh Court rules in lemountable case
7th March 1975
Page 29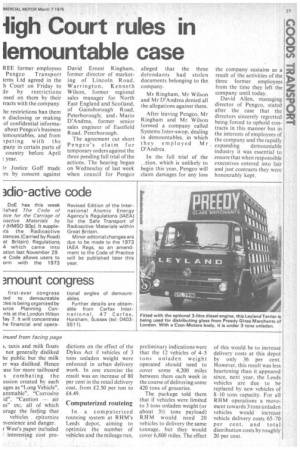 Page 29, 7th March 1975 —
@ugh Court rules in lemountable case
Close
REE former employees Pengco Transport tems Ltd agreed in the h Court on Friday to de by restrictions osed on them by their tracts with the company.
he restrictions ban them n disclosing or making of confidential informaabout Pengco's business lemountables, and from ipeting with the 'party in certain parts of country before April t year.
Ir Justice Goff made !rs by consent against David Ernest Ringham, former director of marketing of Lincoln Road, Warrington, Kenneth Wilson, former regional sales manager for North East England and Scotland, of Gainsborough Road, Peterborough; and . Mario D'Andrea, former senior sales engineer of Eastfield Road, Peterborough.
The agreement cut short Pengco's claim for temporary orders against the three pending full trial of the actions. The hearing began on Wednesday of last week when council for Pengco alleged that the three detendants had stolen documents belonging to the company.
Mr Ringham, Mr Wilson and Mr D'Andrea denied all the allegations against them.
After leaving Pengco, Mr Ringham and Mr Wilson formed a company called Systems Inter-swop, dealing in demountables, in which they employed Mr D'Andrea.
In the full trial of the Aion, which is unlikely to begin this year, Pengco will claim damages for any loss the company sustains as a result of the activities of the three former employees from the time they left the company until today.
David Allen, managing director of Pengco, stated after the case that the directors sincerely regretted being forced to uphold contracts in this manner but in the interests of employees of the company and the rapidly expanding demountable industry it was essential to ensure that when responsible executives entered into fair and just contracts they were honourably kept.