Sprung Eye Reduces Spring Breakages
7th December 1951
Page 51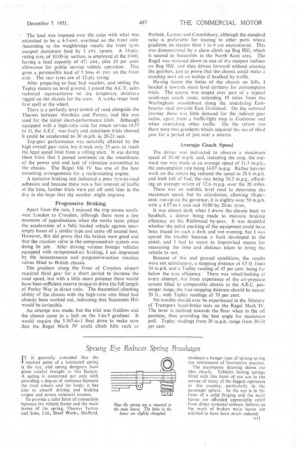 Page 51, 7th December 1951 —
Sprung Eye Reduces Spring Breakages
Close
Iii generally conceded that the I weakest point of a laminated spring is the eye, and spring designers have given careful thought to this feature. A spring is concerned not only with providing a degree of resilience between the road_ wheels and the body; it has also to absorb driving and braking torque and severe torsional stresses.
To provide a safer form of Connection between the vehicle frame and the main leaves of the spring, Thomas Turbo and Sons, Ltd., Sheaf Works, Sheffield, produces a hanger type of sprung spring eye reminiscent of locomotive practice.
The accompany drawing shows the idea clearly. Vehicles having 'springs fitted with this forth of eye are in the service of many of the biggest operators in this country, particularly in the passenger sphere. As the eye is in the form of a solid forging and the Main leaves are afforded. appreciable relief from direct torsional stresses, failures as the result of broken main leaves are claimed to have been much reduced.