COMET 90 RANGE INTRODUCTIONS TO simplify planning of the assembly
7th December 1951
Page 41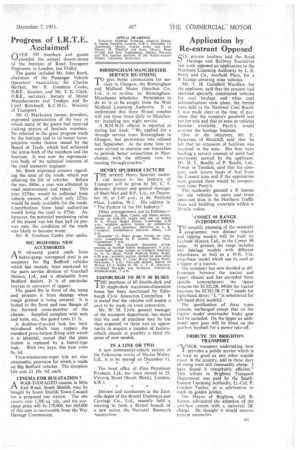 Page 41, 7th December 1951 —
COMET 90 RANGE INTRODUCTIONS TO simplify planning of the assembly
Close
I. programme, two distinct tractor and tipping models will be built by Leyland Motors, Ltd., in the Comet 90 range. At present, the range includes two haulage models with different wheelbases, as well as a 10-ft. 5-in. wheelbase model which can be used as a tipper or a tractor.
The company has now decided to differentiate between the tractor and tipper chassis and has accorded them specific nomenclature: the tipper remains the ECO2.2R, whilst the tractor becomes the ECO2.3R (" R" stands for right-hand drive; " L " is substituted for left-band-drive models).
The specification of these types remains unchanged except that on the tractor model semi-trailer brake gear will be included. On the tipper an additional spur gear will be fitted on the gearbox layshaft for a power take-off.