SHOULD BUS WORKERS " JUMI" QUEUES?
7th December 1951
Page 34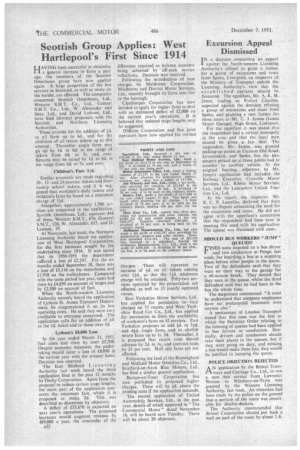 Page 34, 7th December 1951 —
SHOULD BUS WORKERS " JUMI" QUEUES?
Close
FINES were imposed on a bus driver and two conductors at Penge, last week, for boarding a bus at a stopping place before other people in the queue. Two of the defendants said that they were on their way to the garage for a 40-minute break. They denied that they were in the queue, whilst the third defendant said that he had been in the bus the whole tithe.
The magistrate commented: " It must be understood that company employees have no preferential treatment over 'anyone else."
A spokesman of London Transport stated that this case was the first in which the Statutory Order relating to the forming of queues had been applied to bus drivers or conductors. Normally, drivers and conductors should take their places in the queues. but if they were going on duty, and missing a bus would make them late, they would he justified in jumping the queue.