Stress Peening for Longer Spring Life
7th December 1951
Page 32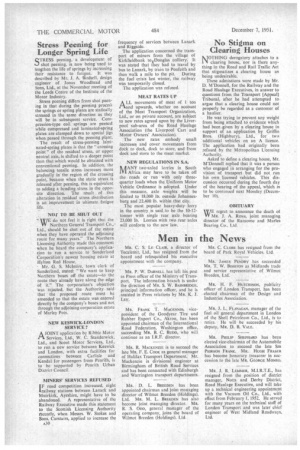 Page 32, 7th December 1951 —
Stress Peening for Longer Spring Life
Close
Keywords :
Materials Science
,
Physics
,
Mechanics
,
Metalworking
,
Shot Peening
,
Elasticity
,
Peening
,
Mechanical Engineering
,
Residual Stress
,
Fatigue
,
Stress
,
Laser Peening
STRESS peening. a development of shot peening, is now being used to lengthen the life of springs by increasing their resistance to fatigue. It was described by Mr. J. A. Birdsell, design engineer of Jonas Woodh-ead and Sons, Ltd.' at the November meeting of the Leeds Centre of the Institute of the Motor Industry.
Stress peening differs from shot peening in that during the peening process the springs or spring plates are statically stressed in the same direction as they will be in subsequent service. Compression-type coil springs are peened while compressed and laminated-spring plates are clamped down to special jigs when passed through the peening plant. The result of stress-peening laminated-spring plates is that the " crossing point" of the residual stress, or upper neutral axis, is shifted to a deeper point than that which would be obtained with conventional peening. In addition, the balancing tensile stress increases more gradually in the region of the crossing point, because when the static stress is released after peening, this is equivalent to adding a bending stress in the opposite direction. The result of this alteration in residual stress distribution is an improvement' in 'ultimate fatigue life.