No Stigma on Clearing Houses
7th December 1951
Page 32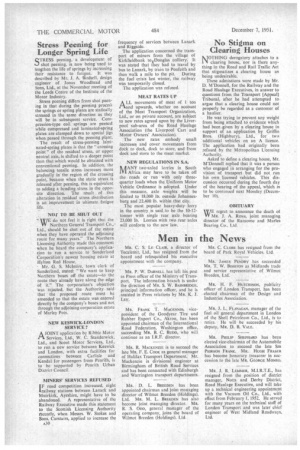 Page 32, 7th December 1951 —
No Stigma on Clearing Houses
Close
MOTH1NG derogatory attaches to a 1 11 clearing house, nor is there anything in the Road and Rail Traffic. Act that stigmatizes a clearing house as being undesirable.
These admissions were made by Mr. D. M'Donnell, for the Railway and the Road Haulage Executives, in answer to questions from the Transport [Appeal' Tribunal, after he had attempted to argue that a clearing house could not properly be regarded as a customer of a haulier.
He was trying to prevent any weight from being attached to evidence which had been -given by a clearing house in support of an application by Griffin Bros. (Highbury), Ltd., for two additional vehicles on an A licence. The application had originally been refused by the Metropolitan Licensing Authority.
Asked to define a clearing house, Mr. M'Donnell replied that it was a person who engaged in arranging for the provision of transport but did not run his own licensed vehicles. This discussion occurred during the fourth day of the hearing of the appeal, which is to be continued next Monday (December 10).