Branch Closings to Save £800,000 a Year
7th December 1951
Page 31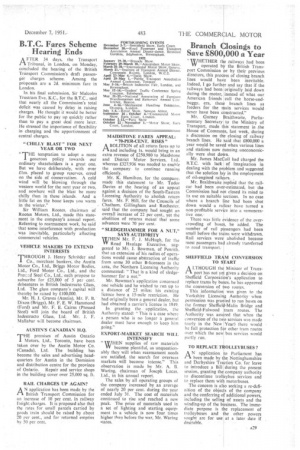 Page 31, 7th December 1951 —
Branch Closings to Save £800,000 a Year
Close
WHETHER the railways had been operated by the British Transport Commission or by their previous directors, this process of closing branch lines would have been inevitable. Indeed, I go further and say that if the railways had been originally laid down during the motor, instead of what our American friends call the horse-andbuggy, era, these branch lines as feeders for the main services would never have been constructed."
Mr. Gurney Braithwaite, Parliamentary Secretary to the Ministry of Transport, made this statement in the House of Commons, last week, during a discussion on the closing of railway branch lines. He said that £800,000 a year would be saved when various lines and stations now running uneconomicairy were shut down.
Mr. James MacColl had charged the H.T.C. with lack of imagination in dealing with the problem and suggested that the solution lay in the employment of oil-engined railcars.
Mr. Braithwaite replied that the railcar had been over-estimated, but the Commission had not closed its mind to its use on suitable sections. In no case where a branch line had been shut down would a railcar have turned a non-profitable service into a remunerative one.
There was little evidence of the overcrowding of buses, he added, The number of rail passengers had been small before the trains were withdrawn. Rail services were abolished because most passengers had already transferred to road transport.
SHEFFIELD TRAM CONVERSION TO START
ALTHOUGH the Minister of Transport has not yet given a decision on Sheffield Corporation's application to replace trams by buses, he has approved the conversion of two routes.
This, information was given to the Yorkshire Licensing Authority when permission was granted to run buses on the former Sheffield-Malin Bridge and Sheffield-Fulwood tram routes. The Authority was assured that when the conversion of the two services was made (early in the New Year) there would he full protection for other tram routes over which the new bus services would partly run.
TO REPLACE TROLLEYBUSES
AN application to Parliament has been made by the Nottinghamshire and Derbyshire Traction Co. for leave to introduce a Bill during the present session, granting the company authority to discontinue trolleybus services and to replace them with motorbuses.
The concern is alSo seeking a re-definition of the objects of the company and the conferring of additional powers, including the selling of assets and the winding-up of the business. The immediate purpose is the replacement of trolleybuses and the other powers sought are for use at a later date if desirable.