One Hears—
7th December 1951
Page 29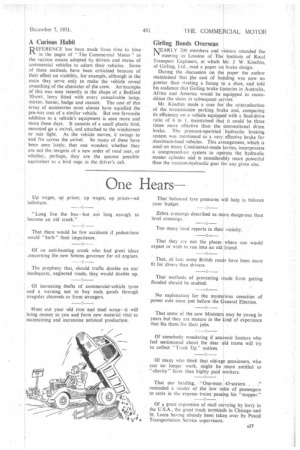 Page 29, 7th December 1951 —
One Hears—
Close
Up wages, up prices; up wages, up prices—ad intiniturn.
"Long live the bus—but not long enough to become an old crock."
That there would be few accidents if pedestrians avould "kerb" their impatience.
Of an anti-hunting crank who had great ideas concerning the new Simms governor for oil engines.
The prophecy that, should traffic double on our inadequate, neglected roads, they would double up.
Of increasing thefts of commercial-vehicle tyres and a warning not to buy such goods through irregular channels or from strangers.
Hunt out your old iron and steel scrap—it will bring money to you and form new material vital to maintaining and increasine national production. That balanced tyre pressures will help to balance your budget. _ Zebra crossings described as more dangerous than level crossings.
Too many loud reports in their vicinity.
That they are not the places where one would expect or wish to run into an old friend.
That, of late, some British roads have been more fit for divers than drivers.
That methods of preventing roads from getting flooded should be studied.
No explanation for the mysterious cessation of power cuts since just before the General Election.
That some of the new Ministers may be young in years but they are mature in the kind of experience that fits them for their jobs.
Of somebody wondering if souVenir hunters who feel sentimental about the dear old trams will try to collect "Track Up" notices.
Of many who think that old-age pensioners, who can no longer work, might be more entitled to "charity" fares than highly paid workers-.
That our heading, "One-man 43-seaters . . ." reminded a reader of the low ratio of passengers to seats in the express trains passing his "stopper."
Of a great expansion of mail carrying by lorry in the U.S.A., the great truck terminals in Chicago and St. Louis having already been taken over by Postal Transportation Service supervisors.