Passing Comments
7th December 1951
Page 28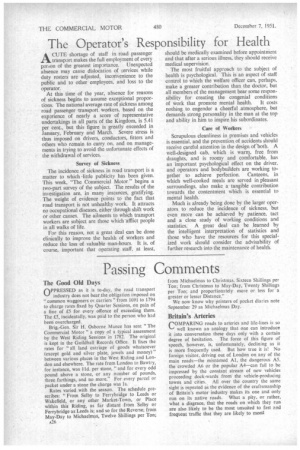 Page 29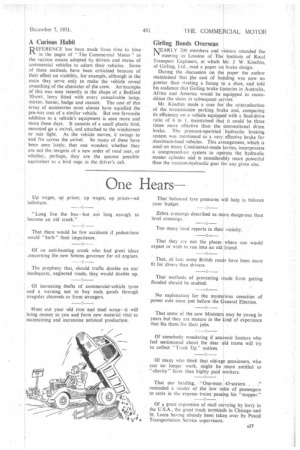 Page 28, 7th December 1951 —
Passing Comments
Close
Keywords :
Brakes
,
Mechanical Engineering
,
Technology
,
Transport
,
Parking Brake
,
Railway Brake
,
Selby
,
Drum Brake
,
Master Cylinder
,
Parking
,
Truck
The Good Old Days
QPPRESSED as it is to-day, the road transport industry does not bear the obligation imposed on "common waggoners or carriers" from 1691 to 1794 to charge rates fixed by Quarter Sessions, on pain of a line of £5 for every offence of exceeding therm The £5, incidentally, was paid to the person who had been overcharged.
Brig.-Gen. Sir H. Osborne Mance has sent "The Commercial Motor" a copy of a typical assessment by the West Riding Sessions in 1782. The original is kept in the Guildhall Records Office. It fixes the rates for "all land carriage of goods whatsoever (except gold and silver plate, jewels and money)" between various places in the West Riding and London and elsewhere. The rate from London to Bawtry, for instance, was Ild, per stone, "and for every odd pound above a stone, or any number of pounds, three farthings, and no more." For every parcel or packet under a stone the charge was Is.
Rates varied with the season. The schedule prescribes: "From Selby to Ferrybridge to Leeds or Wakefield, or any other Market-Town, or Place within this Riding, as far distant from Selby or Ferrybridge as Leeds is; and so for the Reverse; from May-Day to Michaelmas, Twelve Shillings per Ton;
from Michaelmas to Christmas, Sixteen Shillings per Ton; from Christmas to May-Day, Twenty Shillings per Ton; and proportionately more or less for a greater or lesser Distance."
We now know why printers of pocket diaries note September 29 as Michaelmas Day.
Britain's Arteries
COMPARING roads to arteries and life-lines is so well known an analogy that one can introduce it into conversation these days only with a certain degree of hesitation. The force of this figure of speech, however, is, unfortunately, declining as it is more frequently used. But how true it is! No foreign visitor, driving out of London on any of the main roads—the misnamed Al, the dangerous A5, the crowded A6 or the popular A4—can fail to be impressed by the constant stream of new vehicles proceeding dock-wards from the vehicle-producing towns and cities. All over the country the same sight is repeated as the evidence of the craftsmanship of Britain's motor industry makes its one and only run on its native roads. What a pity, or rather, what a disgrace, that the roads on which they run a-re also likely, to be the most unsuited to fast and frequent traffic that they are likely to meal
A Curious Habit
REFERENCE has been made from time to time in the pages of "The Commercial Motor" to the various means adopted by drivers and mates of commercial vehicles to adorn their vehicles. Some of these methods have been criticized because of their effect on visibility, for example, although in the . main they serve only to make the vehicle reveal something of the charatter of the crew. An 'example of this was seen• recently in the shape of a Bedford . 30-cwt. lorry fitted with every conceivable lamp, mirror, heater, badge and mascot. The cost of this array of accessories must almost have equalled the pre-war cost of a similar vehicle. But one favourite addition to 4 vehicle's equipment is Seen more and more these days. It consists of a small plastic bird, mounted Ian a swivel, and attached to the windscreen or rear light. As the vehicle moves, it swings to and fro across the swivel. So many of these have been seen lately, that one wonders whether they are not the insignia of a new order of road user, or whether, perhaps, they are the nearest possible equivalent to a bird cage in the driver's cab. Gil-ling Bonds Overseas NEARLY 200 members and visitors attended the meeting in London of The Institute of Road Transport Engineers, at which Mr.. J W. Kinchin, of Girling, Ltd., read a paper on brake design.
During the discussion on the paper the author maintained that Ihe cost of bonding was now no greater than riveting a facing to a shoe, and told his audience that Girling brake factories in Australia, Africa and America. would be equipped to recondition the shoes in subsequent service.
Mr. Kinchin made a caSe for the reintroduction of the transmission parking brake and, comparing its efficiency on a vehicle equipped with a final-drive ratio of 6 to I, maintained that it could be three times more effective than the conventional drum brake. The pressure-operated hydraulic braking system was mentioned as a very effective brake for .maximum-load vehicles. This arrangement, which is used on many Continental-made lorries, incorporates a compressed-air system to operate the hydraulic master cylinder and is considerably more powerful than the vacuum-hydraulic gear for any given size.