TRAINING COURSES FOR PART-TIME LECTURERS IN TRANSPORT
5th August 1966
Page 70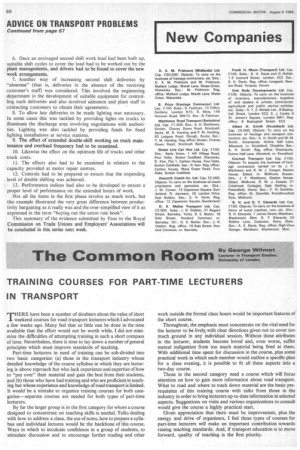 Page 70, 5th August 1966 —
TRAINING COURSES FOR PART-TIME LECTURERS IN TRANSPORT
Close
"THERE have been a number of doubters about the value of short 1 weekend courses for road transport lecturers which I advocated a few weeks ago. Many feel that so little can be done in the time available that the effort would not be worth while. I did not minimize the difficulties of attempting training in such a short compass of time. Nevertheless, there is time to lay down a number of general principles which must improve standards of teaching.
Part-time lecturers in need of training can be sub-divided into two basic categories: (a) those in the transport industry whose detailed knowledge of the course syllabus in which they are lecturing is above reproach but who lack experience and expertise of how to "put over" their material and gain the best from their students, and (b) those who have had training and who are proficient in teaching but whose experience and knowledge of road transport is limited. It would be a mistake to organize training courses for both categories—separate courses are needed for both types of part-time lecturers.
By far the larger group is in the first category for whom a course designed to concentrate on teaching skills is needed. Talks dealing with how to address a class, the use of notes, how to prepare a syllabus and individual lectures would be the backbone of this course. Ways in which to inculcate confidence in a group of students, to stimulate discussion and to encourage further reading and other work outside the formal class hours would be important features of the short course.
Throughout, the emphasis must concentrate on the vital need for the lecturer to be lively, with clear directions given not to cover too much ground in any individual session. Without these attributes in the lecturer, students become bored and, even worse, suffer mental indigestion from too much material being fired at them. With additional time spent for discussion in the course, plus some practical work in which each member would outline a specific plan for a class evening, it is possible to fit all these aspects into a two-day course.
Those in the second category need a course which will focus attention on how to gain more information about road transport. What to read and where to track down material are the basic prerequisites of this training course with talks from those in the industry in order to bring lecturers up-to-date information in selected aspects. Suggestions on visits and various organizations to consult would give the course a highly practical start.
Given appreciation that there must be improvement, plus the energy and drive of organizers, I feel these types of courses for part-time lecturers will make an important contribution towards raising teaching standards. And, if transport education is to move forward, quality of teaching is the first priority.