In Britain 4 out of 5 commercial vehicle drivers are
5th August 1966
Page 65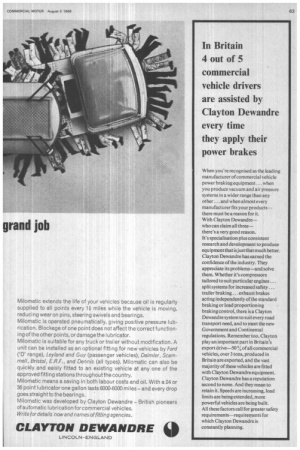 Page 65, 5th August 1966 —
In Britain 4 out of 5 commercial vehicle drivers are
Close
assisted by Clayton Dewandre every time they apply their power brakes
When you're recognised as the leading manufacturer of commercial vehicle power braking equipment . .. when you produce vacuum and air pressure systems in a wider range than any other. . and when almost every manufacturer fits your products— there must be a reason for it.
With Clayton Dewandrewho can claim all three— there's a very good reason.
It's specialisation plus consistent research and development to produce equipment that is just that much better. Clayton Dewandre has earned the confidence of the industry. They appreciate its problems—and solve them. Whether it's compressors tailored to suit particular engines. split systems for increased safety . . . trailer braking ... exhaust brakes acting independently of the standard braking or load proportioning braking control, there is a Clayton Dewandre system to suit every road transport need, and to meet the new Government and Continental regulations. Remember too, Clayton play an important part in Britain's export drive-50% of all commercial vehicles, over 3 tons, produced in Britain are exported, and the vast majority of these vehicles are fitted with Clayton Dewandre equipment. Clayton Dewandre has a reputation second to none. And they mean to retain it. Speeds are increasing, load limits are being extended, more powerful vehicles are being built. All these factors call for greater safety requirements—requirements for which Clayton Dewandre is constantly planning.