, an - A, and photographer Dick Ross visit Jacob and Co. (Liverpool) Ltd.
5th August 1966
Page 62
Page 63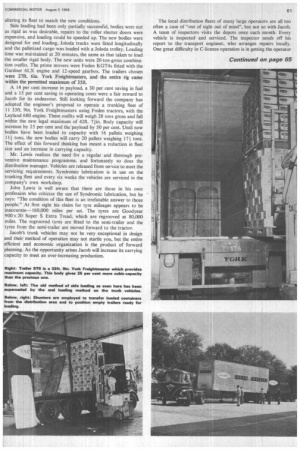 Page 67
Page 62, 5th August 1966 —
, an - A, and photographer Dick Ross visit Jacob and Co. (Liverpool) Ltd.
Close
JACOB'S transport fleet operating in the distinctive moroccan maroon livery, totals just over 150 commercial vehicles and in addition there are 270 saloons. The fleet is spread over 12 depots, strategically placed and widely dispersed from Glasgow to Plymouth. Distribution is not Mr. Lewis's problem; this is the function of the distribution manager, Mr. G. S. Price, to whom Mr. Lewis is responsible. The transport engineer's responsibility is to keep the wheels turning and to provide the directors with technical advice to assist them to formulate the company's transport policy.
This is not an unusual function for a transport engineer, but unlike so many other boards Jacob's directors accept the professional's advice. The result is startling.
A trunking fleet of 26 vehicles three years ago is being reduced to 18. The principal change has been from a rigid to an articulated fleet. Later changes have been in body size and design. Mr. Lewis realizes that he is not gaining the full advantage of articulation, bu for the moment he is satisfied with increased carrying capacity Cubic capacity is, of course, vital where the commodity bein carried is as lightweight as cream crackers. Jacob claims a 75 pc cent increase.
In 1948, when the company began building its trunking fleet Jacob placed the emphasis on maximum bulk capacity vehicles Platform eight-wheel rigids fitted with tailor-made containers wer the original choice. In these austere immediate post-war days thi was an example of enterprise. In the present containerization er one is inclined to forget that companies like Jacob had the uni load concept almost 20 years ago. By 1954 the fleet had altered t vans, still of maximum capacity. The vans were adapted for sid loading and palletization was introduced to retain, at least in par the unit load concept:
The advent of the motorway era and the modification of th Construction and Use Regulations which increased the maximu legal length of artics presented Jacob with an opportunity whic was grasped with both hands. Production was on the increas the company could now carry bigger loads faster, and it set abo altering its fleet to match the new conditions.
Side loading had been only partially successful, bodies were not as rigid as was desirable, repairs to the roller shutter doors were expensive, and loading could be speeded up. The new bodies were designed for end loading, Joloda tracks were fitted longitudinally and the palletized cargo was loaded with a Joloda trolley. Loading time was maintained at 20 minutes, the same as that taken to load the smaller rigid body. The new units were 20-ton-gross combination outfits. The prime movers were Foden KGT4s fitted with the Gardner 6LX engine and 12-speed gearbox. The trailers chosen were 27ft. 6in. York Freightmasters, and the entire rig came within the permitted maximum of 35ft.
A 14 per cent increase in payload, a 30 per cent saving in fuel and a 15 per cent saving in operating costs were a fair reward to Jacob for its endeavour. Still looking forward the company has adopted the engineer's proposal to operate a trunking fleet of 11 33ft. 9in. York Freightmasters using Foden tractors, with the Leyland 680 engine. These outfits will weigh 28 tons gross and fall within the new legal maximum of 4211. 7fin. Body capacity will increase by 25 per cent and the payload by 50 per cent. Until now bodies have been loaded to capacity with 16 pallets weighing 11+ tons, the new bodies will carry 20 pallets weighing 174 tons. The effect of this forward thinking has meant a reduction in fleet size and an increase in carrying capacity.
Mr. Lewis realizes the need for a regular and thorough preventive maintenance programme, and fortunately so does the distribution manager. Vehicles are released from service to meet the servicing requirements. Syndromic lubrication is in use on the trunking fleet and every six weeks the vehicles are serviced hi the company's own workshop.
John Lewis is well aware that there are those in his own profession who criticize the use ot' Syndromic lubrication, but he says: "The condition of this fleet is an irrefutable answer to those people." At first sight his claim for tyre mileages appears to be inaccurate-160,000 miles per set. The tyres are Goodyear 900 x 20 Super S Extra Tread, which are regrooved at 80,000 miles. The regrooved tyres are fitted to the semi-trailer and the tyres from the semi-trailer are moved forward to the tractor.
Jacob's trunk vehicles may not be very exceptional in design and their method of operation may not startle you, but the entire efficient and economic organization is the product of forward planning. As the opportunity arises Jacob vvill increase its carrying capacity to meet an ever-increasing production. The local distribution fleets of many large operators are all too often a case of "out of sight out of mind", but not so with Jacob. A team of inspectors visits the depots once each month. Every vehicle is inspected and serviced. The inspector sends off his report to the transport engineer, who arranges repairs locally. One great difficulty in C-licence operation is in getting the operator
and the engineer to see each other's point of view. However, Mr. Price realizes that his fleet must be serviced and he arranges his delivery schedules to ensure that Jack Lewis has sufficient time to perform his function.
If it is true that "foreign"-based distribution fleets are often neglected, it is equally true that representatives' cars are the transport engineer's nightmare. The representative is very often a law unto himself and consequently his car suffers. Once again Jacob has tied this matter up very nicely. Company cars are serviced bi-monthly at approved local distributors and to a programme set out by the transport engineer. Cream crackers are very simple little things: no frills, no trimmings, plain and square. This is perhaps reflected in Jacob's transport organization. Simple without frills or trimmings, but very efficient.
Last week, COMMERCIAL MOTOR announced the birth of a new joint delivery company, ABMAC Deliveries Ltd. This company will deliver for John Macintosh and Sons Ltd., Huntley and Palmers Ltd., Peak Frean and Co. Ltd., Melba Ltd. and W. and R. Jacob and Co. (Liverpool) Ltd. It is understood that the company will concentrate on the movement of large quantities of palletized goods; presumably this will take over the function of the Jacob trunkers. The matter is still very much in its early stages and after my visit to Liverpool I hope that some of Jacob's moroccan maroon will rub off on the new set-up.