Bird's Eye
5th August 1966
Page 44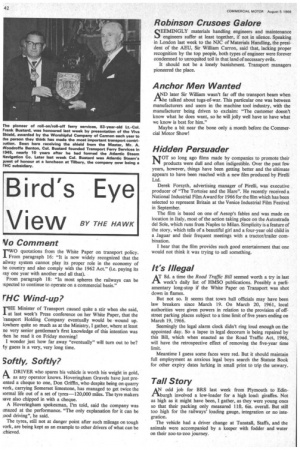 Page 44, 5th August 1966 —
Bird's Eye
Close
Keywords :
ViewBY THE HAWK
Vo Comment
TWO quotations from the White Paper on transport policy. ▪ From paragraph 16: "It is now widely recognized that the ailway system cannot play its proper role in the economy of he country and also comply with the 1962 Act." (i.e. paying its /ay one year with another and all that). From paragraph 18: "In most spheres the railways can be mpected to continue to operate on a commercial basis."
rHC Wind-up?
✓HE Minister of Transport caused quite a stir when she said, at last week's Press conference on her White Paper, that the 'ransport Holding Company eventually would be wound up. lowhere quite so much as at the Ministry, I gather, where at least ne very senior gentleman's first knowledge of this intention was then he read it on Friday morning! I wonder just how far away "eventually" will turn out to be? fy guess is a very, very long time.
softly, Softly?
DRIVER who spares his vehicle is worth his weight in gold, as any operator knows. Hoveringham Gravels have just pretilted a cheque to one, Don Griffin, who despite being on quarry vork, carrying Somerset limestone, has managed to get twice the iormal life out of a set of tyres-120,000 miles. The tyre makers rave also chipped in with a cheque. A Hoveringham spokesman, I'm told, said the company was Lmazed at the performance. "The only explanation for it can be ,00d driving", he said. The tyres, still not at danger point after such mileage on tough vork, are being kept as an example to other drivers of what can be chieved.
Robinson Crusoes Galore
EEMINGLY materials handling engineers and maintenance engineers suffer at least together, if not in silence. Speaking in London last week to the NJC of Materials Handling, the president of the AEU, Sir William Carron, said that, lacking proper recognition by the top people, both types of engineer were forever condemned to unrequited toil in that land of necessary evils. It should not be a lonely banishment. Transport managers pioneered the place.
Anchor Men Wanted
AND later Sir William wasn't far off the transport beam when he talked about tugs-of-war. This particular one was between manufacturers and users in the machine tool industry, with the manufacturer being driven to exclaim: "The customer doesn't know what he does want, so he will jolly well have to have what we know is best for him."
Maybe a bit near the bone only a month before the Commercial Motor Show!
Hidden Persuader
NOT so long ago films made by companies to promote their products were dull and often indigestible. Over the past few years, however, things have been getting better and the ultimate appears to have been reached with a new film produced by Pirelli Ltd. Derek Forsyth, advertising manager of Pirelli, was executive producer of "The Tortoise and the Hare". He recently received a National Industrial Film Award for 1966 for the film which has been selected to represent Britain at the Venice Industrial Film Festival in September. The film is based on one of Aesop's fables and was made on location in Italy, most of the action taking place on the Autostrada del Sole, which runs from Naples to Milan. Simplicity is a feature of the story, which tells of a beautiful girl and a four-year old child in a Jaguar and their frequent meetings with a tractor/trailer combination. 1 hear that the film provides such good entertainment that one would not think it was trying to sell something.
It's Illegal
Ar 8d. a time the Road Traffic Bill seemed worth a try in last week's daily list of HMSO publications. Possibly a parliamentary long-stop if the White Paper on Transport was shot down in flames. But not so. It seems that town hall officials may have been law breakers since March 19. On March 20, 1961, local authorities were given powers in relation to the provision of offstreet parking places subject to a time limit of five years ending on March 19, 1966. Seemingly the legal alarm clock didn't ring loud enough on the appointed day. So a lapse in legal decorum is being repaired by this Bill, which when enacted as the Road Traffic Act, 1966, will have the retrospective effect of removing the five-year time limit. Meantime I guess some faces were red. But it should maintain full employment as anxious legal boys search the Statute Book for other expiry dates lurking in small print to trip the unwary.
Tall Story
Al odd job for BRS last week from Plymouth to Edinburgh involved a low-loader for a high load: giraffes. Not as high as it might have been, I gather, as they were young ones so that their packing only measured lift. 6in. overall. But still too high for the railways' loading gauge, integration or no integration. The vehicle had a driver change at Tunstall, Staffs, and the animals were accompanied by a keeper with fodder and water on their zoo-to-zoo journey.