Know Your Air Brakes
5th August 1966
Page 42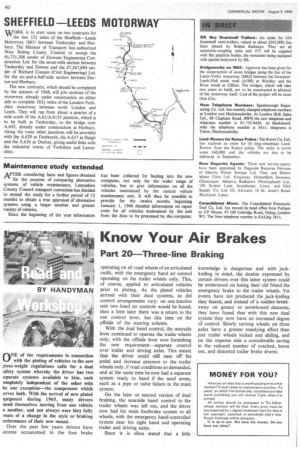 Page 42, 5th August 1966 —
Know Your Air Brakes
Close
Part 20—Three-line Braking
ONE of the requirements in connection with the plating of vehicles to the new ;ross-weight regulations calls for a dual ;day system whereby the driver has two ieparate systems available to him, each .ompletely independent of the other with he one exception—the compressor which erves both. With the arrival of new plated quipment during 1965, many drivers ound themselves moving from one vehicle o another, and not always were they fully ware of a change in the style or braking erformance of their new mount.
Over the past few years drivers have recorne accustomed to the foot brake
operating on all road wheels of an articulated outfit, with the emergency hand air control operating on the trailer wheels only. This, of course, applied to articulated vehicles prior to plating. As the plated vehicles arrived with their dual systems, so did control arrangements vary: on one tractive unit two hand air controls would be found, then a little later there was a return to the one control lever, but this time on the offside of the steering column.
With the dual hand control, the nearside lever continued to operate the trailer wheels only, with the offside lever now furnishing the new requirement—separate control over trailer and driving axles. This meant that the driver could still ease off his pedal and increase pressure to the trailer wheels only, if road conditions so demanded, and at the same time he now had a separate system ready to hand if the need arose, such as a pipe or valve failure in the main system.
On the later or second version of dual braking, the nearside hand control to the trailer wheels was left out, and the driver now had his main footbrake system to all wheels, with the emergency hand-controlled system near his right hand and operating trailer and driving axles.
Since it is often stated that a little
knowledge is dangerous and with jackknifing in mind, the doubts expressed by certain drivers over this latter system could be understood on losing their old friend the emergency brake to the trailer wheels. Yet events have not produced the jack-knifing they feared, and instead of a sudden breakaway on greasy or snowbound descents, they have found that with this new dual system they now have an increased degree of control. Slowly turning wheels on three axles have a greater steadying effect than just trailer wheels locked and sliding, and on the expense side a considerable saving in the reduced number of cracked, burnt out, and distorted trailer brake drums.