People
5th August 1966
Page 36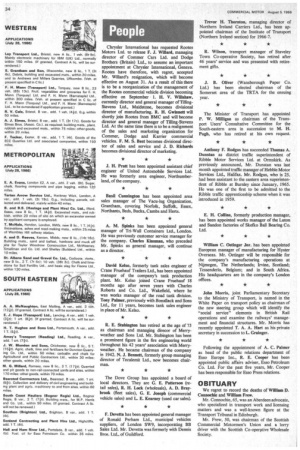 Page 36, 5th August 1966 —
People
Close
Chrysler International has requested Rootes Motors Ltd. to release F. J. Willard, managing director of Commer Cars Ltd. and Dodge Brothers (Britain) Ltd., to assume an important appointment at Chrysler International, Geneva. Rootes have therefore, with regret, accepted Mr. Willard's resignation, which will become effective on August 31. As a result of this there is to be a reorganization of the management of the Rootes commercial vehicle division becoming effective on September 1. H. V. Willshaw, currently director and general manager of TillingStevens Ltd., Maidstone, becomes divisional director of manufacturing. R. H. Gwinnett will shortly join Rootes from BMC and will become director and general manager of Tilling-Stevens Ltd. At the same time there is to be a realignment of the sales and marketing organization for Commer, Dodge and Karrier commercial vehicles. F. M. S. Best becomes divisional director of sales and service and J. D. Richards becomes divisional director of marketing.
J. H. Pratt has been appointed assistant chief engineer of United Automobile Services Ltd. He was formerly area engineer. Northumberland, of the company.
Basil Cunnington has been appointed area sates manager of The Vacu-lug Organization, Grantham, covering Norfolk, Suffolk, Essex, Northants, Beds, Bucks, Cambs and Herts.
A. M. Spinks has been appointed general manager of Tr-Wall Containers Ltd., London. He was previously customer service manager for the company. Charles Kinsman, who preceded Mr. Spinks as general manager, will continue as a director.
David Kelso, formerly tank sales engineer of Crane Fruehauf Trailers Ltd., has been appointed manager of the company's tank production plant. Mr. Kelso joined Crane Fruehauf 18 months ago after seven years with Charles Roberts and Co. Ltd., Wakefield, where he was works manager of the road tank division. Tony Palmer, previously with -Bonallack and Sons Ltd., for 11 years, becomes tank sales engineer in place of Mr. Kelso.
R. E. Stubington has retired at the age of 73 as chairman and managing direcor of Merryweather and Sons Ltd. Mr. Stubington has been a prominent figure in the fire engineering world throughout his 42 years' association with Merryweather. He became chairman of the company in 1942. N. J. Bennett, formerly group managing director of Tecalemit Ltd., now becomes chairman.
The Dove Group has appointed a board of local directors. They are G. E. Patterson (retail sales), R. H. Lock (wholesale), A. D. Braybrook (fleet sales), G. E. Joseph (commercial vehicle sales) and L. E. Kearney (used car sales).
F. Devetta has been appointed general manager of Ronald Perham Ltd., municipal vehicles suppliers, of London SW9, incorporating BB Sales Ltd. Mr. Devetta was formerly with Dennis Bros. Ltd., of Guildford. Trevor H. Thornton, managing director of Northern Ireland Carriers Ltd., has been appointed chairman of the Institute of Transport (Northern Ireland section) for 1966-7.
R. Wilson, transport manager of Staveley Town Co-operative Society, has retired after 46 years' service and was presented with retirement gifts.
J. B. Oliver (Wansborough Paper Co. Ltd.) has been elected chairman of the Somerset area of the TRTA for the ensuing year.
The Minister of Transport has appointed P. W. Milligan as chairman of the Transport Users' Consultative Committee for the South-eastern area in succession to M. H. Pugh. who has retired at his own request.
Anthony F. Rodgus has succeeded Thomas A. Dunstan as district traffic superintendent of Ribble Motor Services Ltd. at Ormskirk. As previously announced, Mr. Dunstan was last month appointed traffic manager of Hebble Motor Services Ltd., Halifax. Mr. Rodgus, who is 25. had been assistant to the eastern area superintendent of Ribble at Burnley since January, 1965. He was one of' the first to be admitted to the Ribble traffic apprenticeship scheme when it was introduced in 1959.
E. H. Collins, formerly production manager, has been appointed works manager of the Luton and Sundon factories of Skefko Ball Bearing Co. Ltd.
William C. Oetinger Jnr, has been appointed European manager of manufacturing for Hyster Overseas. Mr. Oetinger will be responsible for the company's manufacturing operations at Nijmegen. The Netherlands: Irvine, Scotland: Tessenderlo, Belgium: and in South Africa. His headquarters are in the company's London offices.
John Morris, joint Parliamentary Secretary to the Ministry of Transport, is named in the White Paper on transport policy as chairman of the new steering group which will identify the "social service" elements in British Rail operations and examine the railways' management and financial structures. Mr. Morris has recently appointed T. A. A. Hart as his private secretary in succession to L. Grainger.
Following the appointment of A. C. Palmer as head of the public relations department of Esso Europe Inc., R. E. Cooper has been appointed public affairs adviser, Esso Petroleum Co. Ltd. For the past five years, Mr. Cooper has been responsible for Esso Press relations.
OBITUARY
We regret to record the deaths of William D. Connochie and William Frew.
Mr. Connochie, 65, was an Aberdeen advocate, who specialized in transport work and licensing matters and was a well-known figure at the Transport Tribunal in Edinburgh.
Mr. Frew. 50, was chairman of the Scottish Commercial Motormen's Union and a lorry driver with the Scottish Co-operative Wholesale Society.
Tags
People
:
Tony Palmer
,
Thomas A. Dunstan
,
E. Stubington
,
Anthony F. Rodgus
,
Oetinger Jnr
,
P. W. Milligan
,
A. C. Palmer
,
R. Wilson
,
Basil Cunnington
,
J. Willard
,
Charles Kinsman
,
William D. Connochie
,
J. H. Pratt
,
William C. Oetinger Jnr
,
Trevor H. Thornton
,
David Kelso
,
John Morris
,
F. Devetta
,
William Frew
,
R. E. Cooper
,
A. M. Spinks