Haulier or Clearing House?
5th August 1966
Page 34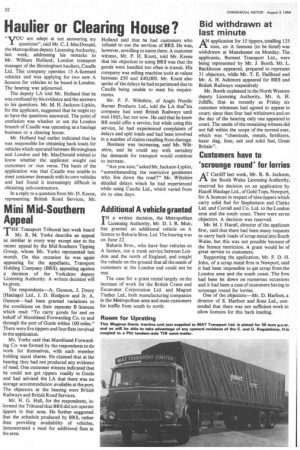 Page 34, 5th August 1966 —
Haulier or Clearing House?
Close
"you are adept at not answering my questions", said Mr. C. J. MacDonald, the Metropolitan deputy Licensing Authority, last week, addressing his remarks to Mr. William Holland, London transport manager of the Birmingham hauliers, Caudle Ltd. This company operates 15 A-licensed vehicles and was applying for two new A licences for vehicles to be based in London. The hearing was adjourned. The deputy LA told Mr. Holland that he was confused by his evidence and the answers to his questions. Mr. M. H. Jackson-Lipkin, for the applicant, suggested that he might try to have the questions answered. The point of confusion was whether or not the London branch of Caudle was operating as a haulage business or a clearing house. Mr. Holland had earlier indicated that he was responsible for obtaining back loads for vehicles which operated between Birmingham and London and Mr. MacDonald wished to know whether the applicant sought out customers or vice versa. The basis of the application was that Caudle was unable to meet customer demands with its own vehicles and had found it increasingly difficult in obtaining sub-contractors. In a reply to a question from Mr. D. Keene, representing British Road Services, Mr. Holland said that he had customers who refused to use the services of BRS. He was, however, unwilling to name them. A customer witness, Mr. P. H. Knott, told Mr. Keene that his objection to using BRS was that the goods were handled too often in transit. His company was selling machine tools at values between £50 and £40,000. Mr. Knott also spoke of the delays he had experienced due to Caudle being unable to meet his requirements. Mr. P. F. Wiltshire, of Anglo Nordic Burner Products Ltd., told the LA the his company had used British Railways until mid-1965, but not now. He said that he knew BR could offer a service, but while using this service, he had experienced complaints of delays and split loads and had been involved in a number of claims resulting from damage. Business was increasing, said Mr. Wiltshire, and he could say with certainty the demands for transport would continue to increase. "Are you sure," asked Mr. Jackson-Lipkin, "notwithstanding the restrictive gentlemen who live down the road?" Mr. Wiltshire detailed delays which he had experienced while using Caudle Ltd., which varied from six to nine days.