Wallace Arnold appeal fails
5th August 1966
Page 32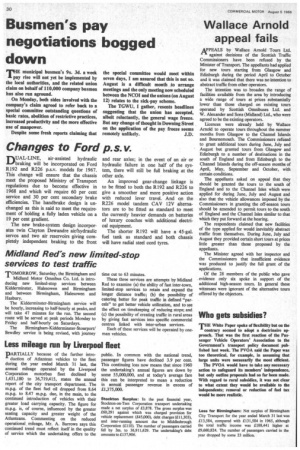 Page 32, 5th August 1966 —
Wallace Arnold appeal fails
Close
APPEALS by Wallace Arnold Tours Ltd.
against decisions of the Scottish Traffic Commissioners have been refused by the Minister of Transport. The appellants had applied for new tours starting from Glasgow and Edinburgh during the period April to October and it was claimed that there was no intention to abstract traffic from other operators.
The intention was to broaden the range of facilities available from the area by introducing a wide range of tours at prices substantially lower than those charged on existing tours operated by Scottish Omnibuses Ltd. and W. Alexander and Sons (Midland) Ltd., who were agreed to be the existing operators.
Licences were already held by Wallace Arnold to operate tours throughout the summer months from Glasgow to the Channel Islands and Bournemouth. The Commissioners refused to grant additional tours during June, July and August but granted tours from Glasgow and Edinburgh to a number of destinations in the south of England and from Edinburgh to the Channel Islands during the off-season months of April, May, September and October, with certain conditions.
The appellants asked on appeal that they should be granted the tours to the south of England and to the Channel Isles which were applied for during June, July and August and also that the vehicle allowances imposed by the Commissioners in granting the off-season tours should be amended to permit tours to the south of England and the Channel Isles similar to that which they put forward at the hearing.
The respondents claimed that new facilities of the type applied for would inevitably abstract traffic from themselves. During June, July and August they provided certain short tours at prices little greater than those proposed by the appellants.
The Minister agreed with her inspector and the Commissioners that insufficient evidence was produced to justify the full grant of the applications.
Of the 28 members of the public who gave evidence only six spoke in support of the additional high-season tours. In general these witnesses were ignorant of the alternative tours offered by the objectors.