Changes to Ford p.s.v.
5th August 1966
Page 32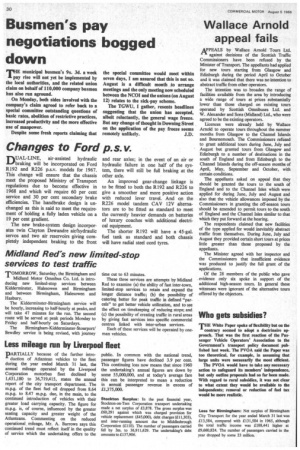 Page 32, 5th August 1966 —
Changes to Ford p.s.v.
Close
DUAL-LINE, air-assisted hydraulic .1—/braking will be incorporated on Ford R192 and R226 p.s.v. models for 1967. This change will ensure that the chassis meet the proposed Ministry of Transport regulations due to become effective in 1968 and which will require 60 per cent service and 30 per cent secondary brake efficiencies. The handbrake design is unchanged as this is said to meet the requirement of holding a fully laden vehicle on a 19 per cent gradient.
The new brake-system design incorporates twin Clayton Dewandre air/hydraulic servos and two air reservoirs giving completely independent braking to the front and rear axles; in the event of an air or hydraulic failure in one half of the system, there will still be full braking at the other axle.
An improved gear-change linkage is to be fitted to both the R192 and R226 to give a smoother and more positive action with reduced lever travel. And on the R226 model tandem CAV 12V alternators are to be fitted as standard to meet the currently heavier demands on batteries of luxury coaches with additional electrical equipment.
The shorter R192 will have a 45-gal. fuel tank as standard and both chassis will have radial steel cord tyres.