'Savage' tax increases says BRF THE British Road Federation issued
5th August 1966
Page 26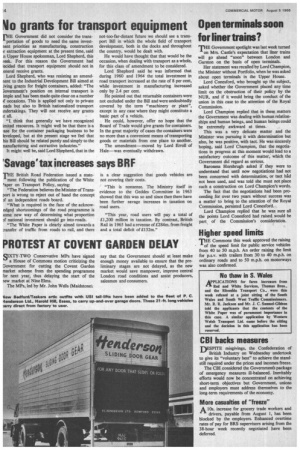 Page 26, 5th August 1966 —
'Savage' tax increases says BRF THE British Road Federation issued
Close
a statement following the publication of the White 'aper on Transport Policy, saying:
"The Federation believes the Minister of Transport is wrong to reject out of hand the concept )f an independent roads board.
"What is required in the face of the acknowedged shortcomings of the road programme is tome new way of determining what proportion )f• national investment should go into roads.
"The White Paper is clearly aimed towards a :ransfer of traffic from roads to rail, and there is a clear suggestion that goods vehicles are not covering their costs.
"This is nonsense. The Ministry itself in evidence to the Geddes Committee in 1963 showed that this was so and since then there have been further savage increases in taxation on road users.
"This year, road users will pay a total of £1,200 million in taxation. By contrast, British Rail in 1965 had a revenue of £284m. from freight and a total deficit of £132m."