Open terminals soon for liner trains?
5th August 1966
Page 26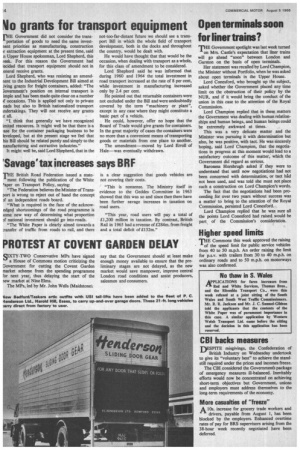 Page 26, 5th August 1966 —
Open terminals soon for liner trains?
Close
THE Government spotlight was last week turned on Mrs. Castle's expectation that liner trains will go ahead "soon" between London and Garston on the basis of open terminals.
Her statement was recalled by Lord Champion, the Minister without Portfolio, when he was asked about open terminals in the Upper House.
Lord Conesford, who brought up the subject, asked whether the Government placed any time limit on the obstruction of their policy by the NUR, and if it would bring the conduct of the union in this case to the attention of the Royal Commission.
Lord Champion replied that in these matters the Government was dealing with human relationships and human beings, and human beings could be extremely awkward at times.
This was a very delicate matter and the Minister was pursuing it with determination but also, he was positive, with tact. He was sincerely hoping, said Lord Champion, that the negotiations in progress at this moment would lead to a satisfactory outcome of this matter, which the Government did regard as serious.
Baroness Horsbrugh asked if they were to understand that until now negotiations had not been concerned with determination, or tact had not been used, and was told she must not place such a construction on Lord Champion's words.
The fact that the negotiations had been proceeding for over two years without success was a matter to bring to the attention of the Royal Commission, persisted Lord Conesford.
Lord Champion replied that he was sure all the points Lord Conesford had raised would be part of the Commission's consideration.