No grants for transport equipment
5th August 1966
Page 26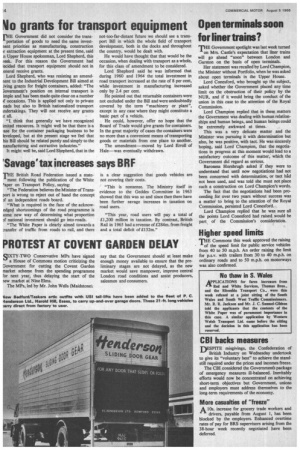 Page 26, 5th August 1966 —
No grants for transport equipment
Close
Lord Shepherd, who was resisting an amendlent to the Industrial Development Bill aimed at ,iving grants for freight containers, added: "The lovernment's position on internal transport is irnple and has been made quite clear on a number if occasions. This is applied not only to private oads but also to British nationalized transport indertakings. They will not receive any grants t all.
"I think that generally we have recognized imited resources. It might well be that there is a :ase for the container packaging business to be leveloped, but at the present stage we feel that his Bill should be related purely and simply to the nanufacturing and extractive industries."
It might well be, said Lord Shepherd, that in the see a transport Bill in which the whole field of transport development, both in the docks and throughout the country, would be dealt with.
He would have thought that that would be the occasion, when dealing with transport as a whole, for this class of amendment to be considered.
Lord Shepherd said he was informed that during 1960 and 1964 the total investment in road transport increased at the rate of 8 per cent, while investment in manufacturing increased only by 2.4 per cent.
He pointed out that returnable containers were not excluded under the Bill and were undoubtedly covered by the term "machinery or plant", except in any case where they might constitute a basic part of a vehicle.
He could, however, offer no hope that the Board of Trade would give grants for containers. In the great majority of cases the containers were no more than a convenient means of transporting goods or materials from one place to another.
The amendment—moved by Lord Erroll of Hale—was eventually withdrawn.