Serious evasion of regulations
5th August 1966
Page 23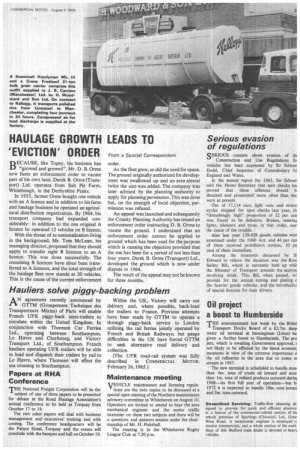 Page 23, 5th August 1966 —
Serious evasion of regulations
Close
cERIOUS. concern about evasion of till Construction and Use Regulations fo: vehicles has been expressed by Sir Edwari Dodd, Chief Inspector of Constabulary fo England and Wales.
In his annual report for 1965, Sir Edwari told the Home Secretary that spot checks hal proved that these offences should b, detected and prosecuted more often than the were at present.
Out of 17,114 cars, light vans and motor cycles stopped for spot checks last year, th "disturbingly high" proportion of 52 per cen was found to be defective. Brakes, steering lights, silencers and tyres, in that order, wer. the cause of the trouble.
Also last year 139,428 goods vehicles wen examined under the 1960 Act, and 46 per cen of them received prohibition notices, 10 pe cent of them immediate.
Among the measures discussed by Si Edward to relieve the situation was the Roai Safety Bill, which is currently held up whil the Minister of Transport amends the section involving drink. This Bill, when passed, wi: provide for the annual testing and plating c the heavier goods vehicles, and the introductio: of special licences for their drivers.