Hauliers solve piggy-backing problem
5th August 1966
Page 23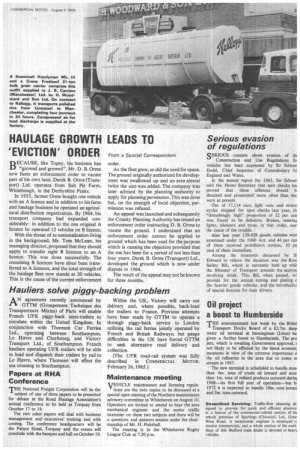 Page 23, 5th August 1966 —
Hauliers solve piggy-backing problem
Close
Keywords :
Transport
,
Trucks
,
Articulated Vehicles
,
Local Government In England
,
Peninsular And Oriental Steam Navigation Company
,
European Ferries
,
Southampton
,
Semi-trailer Truck
,
Train
,
Le Havre
,
Semi-trailer
AN agreement recently announced by GTTM (Groupement Technique des Transporteurs Mixtes) of Paris will enable French UFR piggy-back semi-trailers to circulate within the United Kingdom. In conjunction with Thoresen Car Ferries Ltd., operating between Southampton, Le Havre and Cherbourg, and Victory Transport Ltd., of Southampton. French hauliers operating UFR trailers will be able to load and dispatch their trailers by rail to Le Havre, where Thoresen will effect the sea crossing to Southampton.
Papers at RHA Conference
THE National Freight Corporation will be the subject of one of three papers to be presented for debate at the Road Haulage Association's annual conference to be held at Torquay from October 17 to 19.
The two other papers will deal with business management and executives' training and with costing. The conference headquarters will be the Palace Hotel, Torquay and the events will conclude with the banquet and ball on October 19.
Within the UK, Victory will carry out the trailers to France. Previous attempts delivery and, where possible, back-load have been made by GTTM to operate a through piggy-back service to London utilizing the rail ferries jointly operated by
French and Eiritish Railways; but gauge difficulties in the UK have forced GTTM
to seek alternative road delivery and collection.
(The UFR road-rail system was fully described in COMMERCIAL MOTOR, February 26, 1965.)
Maintenance meeting
VEHICLE maintenance and licensing regula
tions are the twin topics to be discussed at a special open meeting of the Northern maintenance advisory committee in Whitehaven on August 10. Operators are invited to attend to hear the area mechanical engineer and the senior traffic examiner on these two subjects and there will be a questions and answers session under the chairmanship of Mr. H. Pickthall.
The meeting is in the Whitehaven Rugby League Club at 7.30 p.m.