HAULAGE GROWTH LEADS TO
5th August 1966
Page 23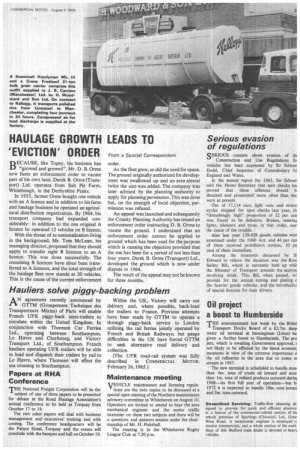 Page 23, 5th August 1966 —
HAULAGE GROWTH LEADS TO
Close
Keywords :
'EVICTION' ORDER From a Special Correspondent DECAUSE, like Topsy, his business has "growed and growed", Mr. D. B. Orme now faces an enforcement order to vacate part of his own land. Derek B. Orme (Transport) Ltd. operates from Salt Pie Farm, Whitehough, in the Derbyshire Peaks. In 1955, farmer Orme bought one vehicle with an A licence and in addition to his farm and haulage business he operated an agricultural distribution organization. By 1964, his transport company had expanded considerably: in addition to the one original A licence he operated 12 vehicles on B licence. With the threat of re-nationalization living in the background, Mr. Tom McLean, his managing director, proposed that they should apply to transfer eight B licences to an A licence. This was done successfully. The remaining B licences have since been transferred to A licences, and the total strength of the haulage fleet now stands at 20 vehicles. This is the cause of the current enforcement
order.
As the fleet grew, so did the need for space. The ground originally authorized for development was swallowed up and an area almost twice the size was added. The company was later advised by the planning authority to apply for planning permission. This was done but, on the strength of local objection, permission was refused.
An appeal was launched and subsequently the County Planning Authority has issued an enforcement order instructing D. B. Orme to vacate the ground. I understand that an enforcement order cannot be applied to ground which has been used for the purpose which is causing the objection provided that the use has been for a period of not less than four years. Derek B. Orme (Transport) Ltd., developed the ground which is now under dispute in 1964.
The result of the appeal may not be known for three months.