New Cross-Channel Container Service
5th August 1966
Page 22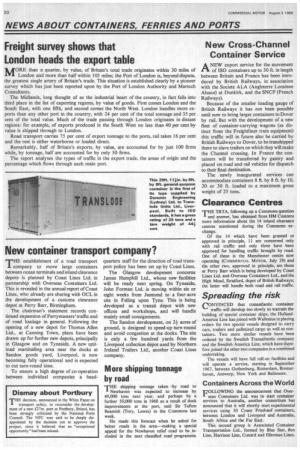 Page 22, 5th August 1966 —
New Cross-Channel Container Service
Close
Keywords :
Transport
,
Land Transport
,
Intermodal Containers
,
Intermodal Freight Transport
,
Containerization
,
Container Ship
,
Freight Rail Transport
,
Loading Gauge
,
Overseas Containers
,
Railroad Car
,
Environment
,
Hospitality / Recreation
ANEW export service for the movement of ISO containers up to 30 ft. in length between Britain and France has been introduced by British Railways, in association with the Societe ALA (Angleterre Lorainne Alsace) at Dunkirk, and the SNCF (French Railways).
Because of the smaller loading gauge of British Railways it has not been possible until now to bring larger containers to Dover by rail. But with the development of a new fleet of container-carrying wagons (as distinct from the Freightliner train equipment) this traffic will in future also be carried by British Railways to Dover, to be transhipped there to slave trailers on which they will make the Channel crossing. In France the containers will be transferred by gantry and placed on road and rail vehicles for dispatch to their final destination.
The newly inaugurated services can accommodate containers 8 ft. by 8 ft. by 10, 20 or 30 ft. loaded to a maximum gross weight of 25 tons.
Clearance Centres
THE TRTA, following up a Commons question and answer, has obtained from HM Customs more information about the 14 inland clearance centres mentioned during the Commons exchange.
Of the 14 which have been granted or approved in principle, 11 are concerned only with rail traffic and only three have been approved for handling traffic brought by road. One of these is the Manchester centre now operating (COMMERCIAL MOTOR, July 29) and the other two, approved in principle, are those at Perry Barr which is being developed by Coast Lines Ltd. and Overseas Containers Ltd., and the High Mead, Stratford, depot of British Railways; the latter will handle both road and rail traffic.
Spreading the risk
CONVINCED that transatlantic container traffic will develop too slowly to warrant the building of special container ships, the HollandAmerica Line has joined with Wallenius in placing orders for two special vessels designed to carry cars, trailers and palletized cargo as well as containers. Two more similar vessels have been ordered by the Swedish Transatlantic company and the Swedish America Line, which have therefore joined the other two companies in a combined undertaking.
The vessels will have full roll-on facilities and will operate a service, starting in September 1967, between Gothenburg, Rotterdam, Bremerhaven, Antwerp, New York and Baltimore.
Containers Across the World
FOLLOWING the announcement that Overseas Containers Ltd. was to start container services to Australia, another consortium has announced that it will shortly start experimental services using 30 Crane Fruehauf containers, between London and Liverpool and Australia, South Africa and the Far East.
This second group is Associated Container Transportation Ltd., formed by Blue Star, Ben Line, Harrison Line, Cunard and Bierman Lines.