Freight survey shows that London heads the export table
5th August 1966
Page 22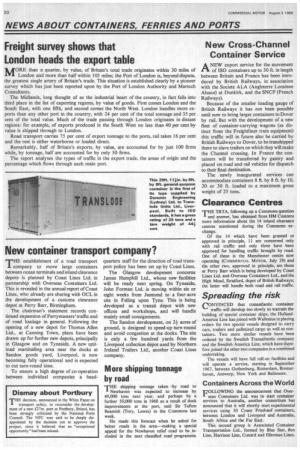 Page 22, 5th August 1966 —
Freight survey shows that London heads the export table
Close
MORE than a quarter, by value, of Britain's total trade originates within 30 miles of London and more than half within 105 miles; the Port of London is, beyond dispute, the greatest single artery of Britain's trade. This situation is established clearly by a pioneer survey which has just been reported upon by the Port of London Authority and Martech Consultants.
The Midlands, long thought of as the industrial heart of the country, in fact falls into third place in the list of exporting regions, by value of goods. First comes London and the South East, with one fifth, and second comes the North West. London handles more exports than any other port in the country, with 24 per cent of the total tonnage and 35 per cent of the total value. Much of the trade passing through London originates in distant regions: for example, of exports produced in the South West no less than 40 per cent by value is shipped through to London.
Road transport carries 75 per cent of export tonnage to the ports, rail takes 16 per cent and the rest is either waterborne or loaded direct.
Remarkably, half of Britain's exports, by value, are accounted for by just 100 firms while, by tonnage, half are accounted for by only 50 firms.
The report analyses the types of traffic in the export trade, the areas of origin and the percentage which flows through each main port.