Who will wear the trousers?
5th August 1966
Page 20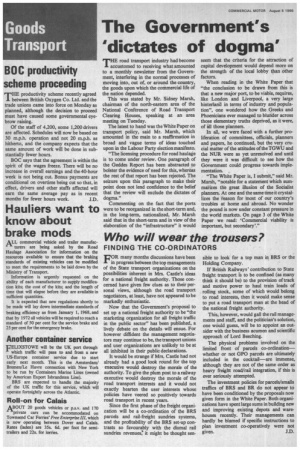 Page 20, 5th August 1966 —
Who will wear the trousers?
Close
FINDING THE CO-ORDINATORS
FOR many months discussions have been in progress between the top managements of the State transport organizations on the possibilities inherent in Mrs. Castle's ideas for a national freight authority. Those concerned have given few clues as to their personal views, although the road transport negotiators, at least, have not appeared to be markedly enthusiastic.
Now that the Government's proposal to set up a national freight authority to be "the marketing organization for all freight traffic in the public sector" has been published, a lively debate on the details will ensue. For however diffident the management negotiators may continue to be, the transport unions and user organizations are unlikely to be at all inhibited in their public declarations.
It would be strange if Mrs. Castle had not already had a good look round for the top executive would destroy the morale of the authority. To give the plum post to a railway executive would destroy the morale of the road transport interests and it would not exactly hearten the user interests whose policies have veered so positively towards road transport in recent years.
Since the first phase of the freight organization will be a co-ordination of the BRS parcels and rail-freight sundries systems, and the profitability of the BRS set-up contrasts so favourably with the dismal rail sundries revenues; it might be thought sen sible to look for a top man in BRS or the Holding Company.
If British Railways' contribution to State freight transport is to be confined (as many think it should be) to the provision of track and motive power to haul train loads of rolling stock, some of which would belong to road interests, then it would make sense to put a road transport man at the head of the national freight authority.
This, however, would gall the rail managements and staff, and the politician's solution, one would guess, will be to appoint an outsider with the business acumen and scientific approach of Lord Beeching.
The physical problems involved on the limited front of parcels co-ordination— whether or not GPO parcels are ultimately included in the cocktail—are immense, although they are not of the same order as heavy freight road/rail integration, if this is ever seriously attempted.
The investment policies for parcels/smalls traffics of BRS and BR do not appear to have been conditioned by the proposals now given form in the White Paper. Both organizations have spent large sums in building new and improving existing depots and warehouses recently. Their managements can hardly be blamed if specific instructions to plan investment co-operatively were not given. J.D.