The Government's 'dictates of dogma'
5th August 1966
Page 20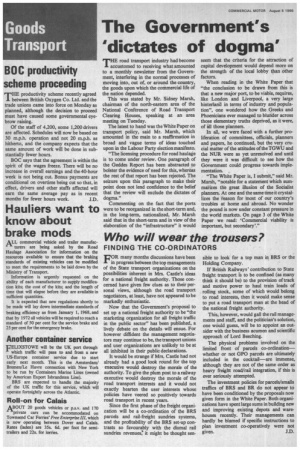 Page 20, 5th August 1966 —
The Government's 'dictates of dogma'
Close
THE road transport industry had become accustomed to receiving what amounted to a monthly newsletter from the Government, interfering in the normal processes of moving into, out of, or around the country, the goods upon which the commercial life of the nation depended.
This was stated by Mr. Sidney Marsh, chairman of the north-eastern area of the National Conference of Road Transport Clearing Houses, speaking at an area meeting on Tuesday.
The latest to hand was the White Paper on transport policy, said Mr. Marsh, which amounted in the main to a reaffirmation in broad and vague terms of ideas touched upon in the Labour Party election manifesto.
"The licensing procedure for road haulage is to come under review. One paragraph of the Geddes Report has been abstracted to bolster the evidence of need for this, whereas the rest of that report has been rejected. The seizure upon this paragraph to make their point does not lend confidence to the belief that the review will exclude the dictates of dogma."
Commenting on the fact that the ports were to be reorganized in the short-term and, in the long-term, nationalized, Mr. Marsh said that in the short-term and in view of the elaboration of the "infrastructure" it would seem that the criteria for the attraction of capital development would depend more on the strength of the local lobby than other factors.
When reading in the White Paper that "the conclusion to be drawn from this is that a new major port, to be viable, requires, like London and Liverpool, a very large hinterland in terms of industry and population", one wondered how the Greeks and Phoenicians ever managed to blunder across those elementary truths deprived, as it were, of all those planners.
In all, we were faced with a further proliferation of committees, officials, planners and papers, he continued, but the very crucial matter of the attitudes of the TGWU and the NUR were as yet unresolved and until they were it was difficult to see how the Government could progress towards implementation.
"The White Paper is, I submit," said Mr. Marsh, "notable for a statement which summarizes the great illusion of the Socialist planners. At one and the same time it crystallizes the reason for most of our country's troubles at home and abroad. No wonder the pound is now under constant pressure in the world markets. On page 3 of the White Paper we read: 'Commercial viability is important, but secondary'."