BO C productivity scheme proceeding
5th August 1966
Page 20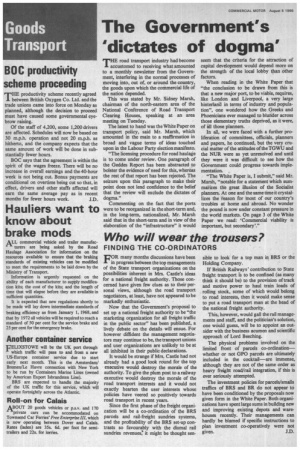 Page 20, 5th August 1966 —
BO C productivity scheme proceeding
Close
THE productivity scheme recently agreed between British Oxygen Co. Ltd. and the trade unions came into force on Monday as planned, although the decision to proceed must have caused some governmental eyebrow raising.
Of the staff of 4,200, some 1,200 drivers are affected. Schedules will now be based on 30 m.p.h. operation and not 20 m.p.h. as hitherto, and the company expects that the same amount of work will be done in substantially fewer hours.
BOC says that the agreement is within the spirit of the wages freeze. There will be no increase in overall earnings and the 40-hour week is not being cut. Bonus payments are conditional on overtime being cut so that, in effect, drivers and other staffs affected will earn the same average pay as in recent months for fewer hours work. J.D.