Tyresoles National Conference
28th September 1951
Page 45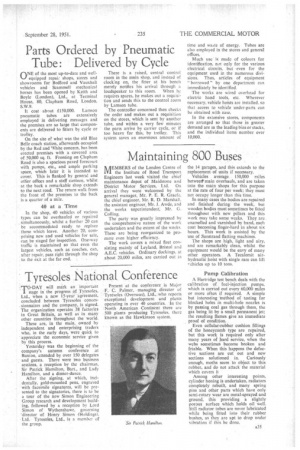 Page 45, 28th September 1951 —
Tyresoles National Conference
Close
Keywords :
170-DAY will mark an important stage in the progress of Tyresoles, Ltd., when a new 15-year agreement, concluded between Tyresoles conces-sionnaires and the company, is signed. The organization operates 38 factories in Great Britain, as well as in many other countries throughout the world. These are, in the main, owned by independent and enterprising traders who, in the early days, were quick to
• appreciate the economic service given by this process. Yesterday was the beginning of the company's autumn conference at • Buxton, attended by over 150 delegates and guests. There were two business sessions, a reception by the chairman, Sir Patrick Hamilton, Bart., and Lady • Hamilton, and a dinner-dance. After the signing, at which, incidentally, gold-mounted pens, engraved • with facsimile signatures, will be presented to the signatories, there is to be a tour of the new Simon Engineering Group research and development building, followed by a reception by Lord Simon of Wythenshawe, governing 'director of Henry Simon (Holdings). Ltd. Tyresoles, Ltd., is a member of the group. • Present at the conference is Major F. C. Palmer, managing director of 'Tyresoles (Overseas), Ltd, who reports exceptional development and plants operating in over 40 countries, In the North American Continent there are 500 plants producing Tyresoles, there known as the Hawkinson system.
Pump Calibration
A Hartridge test bench deals with the calibration of fuel-injection pumps, which is carried out every 60,000 miles or more often if required. A simple but interesting method of testing for blocked holes in multi-hole nozzles is by passing coal gas through them, the gas being lit by a small permanent jet; the resulting flames give an immediate proof of condition.
Even cellular-rubber cushion fillings of the honeycomb type are repaired, but this work is required only after many years of hard service, when the webs sometimes become broken and friable. When this happens the defective sections are cut out and new sections solutioned in. Curiously enough, moths seem to object to this rubber, and do not attack the material which covers it Among other interesting points, cylinder honing is undertaken, radiators completely rebuilt, and many spring pins and other parts which have only semi-rotary wear are metal-sprayed and ground, this providing a slightly porous surface which holds oil well. Still radiator tubes are never lubricated while being fitted into their rubber bushes, as they are apt to drop under vibration if this be done.