Parts Ordered by Pneumatic Tube: Delivered by Cycle
28th September 1951
Page 45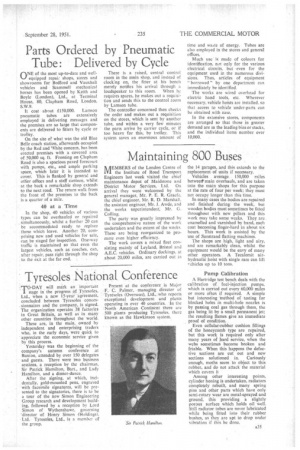 Page 45, 28th September 1951 —
Parts Ordered by Pneumatic Tube: Delivered by Cycle
Close
nNE of the most up-to-date and well's--/ equipped repair shops, stores and showrooms for Bedford and Vauxhall vehicles and Scammell mechanical horses has been opened by Keith and Boyle (London), Ltd., at Terminal House, 80, Clapham Road, London, S.W.9.
It cost about £150,000. Lamson pneumatic tubes ate extensively employed in delivering messages and the premises are so large that components are delivered to fitters by cycle or trolley.
On the site of.' what was the old Blue Belle coach station, afterwards occupied by the Red and White concern, has been erected premises with a ,covered area of 50,000 sq. ft. Fronting on Clapham Road is also a spacious payed forecourt with pumps, etc., and ample parking space, which later it is intended to cover. This is flanked by general and other offices and a staff canteen, whilst at the back a remarkable shop extends to the next road. The return walk from the front of the premises to the back is a quarter of a mile.
40 at a Time In the shop, 40 vehicles of various • types can be overhauled or repaired • simultaneously, whilst a further 20 can be accommodated ready to replace those which leave. Another 20, comprising new and used vehicles for sale, can be staged for inspection. One-way traffic is maintained so that even the largest vehicles, such as coaches, can, . after repair, pass right through the shop to the exit at the far end. There is a raised, central control room in the main shop, and instead of clocking on, the fitter at his bench merely notifies his arrival through a loudspeaker to this room. When he requires spares, he makes out a requisition and sends this to the control room by Lamson tube.
The controller concerned then checks the order and makes out a requisition on the stores, which is sent by another tube, and within a very few minutes the parts arrive by carrier cycle, or if too heavy for this, by trolley. This system saves an enormous amount of time and wa,te of energy. Tubes are also employed in the stores and general offices.
Much use is made of colours for identification, not only for the various electrical circuits, but -even for the equipment used in the numerous divisions. Thus, articles of equipment " borrowed " by one department can immediately be identified.
The works are wired overhead for electric hand tools, etc. Wherever necessary, vehicle hoists are installed, so that access to vehicle under-parts can be obtained with ease.
In the extensive stores, components are arranged so that those in greater demand are in the leading bins or stacks, and the individual items number over 10,000.