Maintaining 800 Buses
28th September 1951
Page 45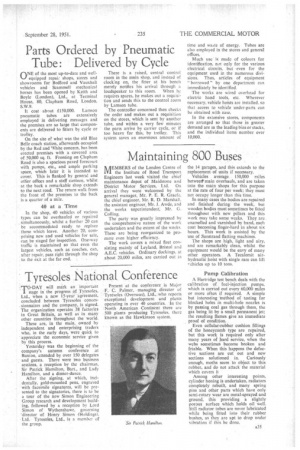 Page 45, 28th September 1951 —
Maintaining 800 Buses
Close
/f EMBERS of the London Centre of 11'1 the Institute of Road Transport Engineers last week visited the chief maintenance depot of Maidstone and District Motor Services, Ltd. On arrival they were welcomed by the general manager, Mr. P. E. R. Grade, the chief engineer, Mr. R. D. Marshall, the assistant engineer, Mr. J. Awde, and the works superintendent, Mr. G. Coiling.
The party was greatly impressed by the comprehensive nature of the work undertaken and the extent of the works. These are being reorganized to promote even higher efficiency.
The work covers a mixed fleet consisting mainly of Leyland, Bristol and A.E,C, vehicles. Ordinary dockings, at about 20,000 miles, are carried out in the 14 garages, and this extends to the replacement of units if necessary.
Vehicles average. 150,000 miles betvveert main overhauls, and are taken into the main shops for this purpose at the rate of four per week; they must not occupy longer than this time.
In many cases the bodies are repaired and finished during the week, but wooden bodies must sometimes be fitted throughout with new pillars and this work may take some weeks. They arc enamelled and varnished by hand, each coat becoming finger-hard in about six hours. This work is assisted by the use of Sunstrand flatting machines.
The shops are high, light and airy, and are remarkably clean, whilst the equipment would be the envy of many other operators. A Tecalemit airhydraulic hoist with single ram can lift 'chides up to 10 tons.