BUFFETED
28th September 1951
Page 43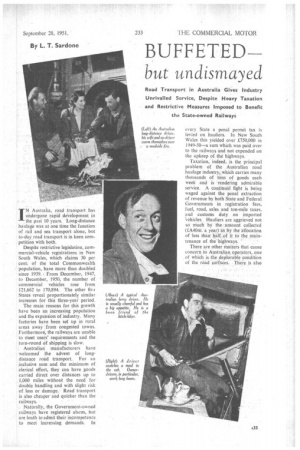 Page 44
Page 43, 28th September 1951 —
BUFFETED
Close
but undismayed
Road Transport in Australia Gives Industry Unrivalled Service, Despite Heavy Taxation and Restrictive Measures Imposed to Benefit the State-owned Railways
By L. T. Sardone
IN Australia, road transport has undergone rapid development in the past 10 years. Long-distance haulage was at one time the function of rail and sea transport alone, but • to-day. road transport is in keen competition With both.
. Despite restrictive legislation, commercial-vehicle registrations in New South Wales, which claims 30 per cent of the total Commonwealth , population, have more than doubled since 1939. , From December, 1947, to December, 1950, the number of commercial vehicles rose from 121,662 to 170,894. The other fivt States reveal proportionately similar increases for this three-year period.
The main reasons for this growth have been an increasing population and the expansion of industry. Many factories have been set up in rural areas away from congested towns. Furthermore, the railways are unable to meet users' requirements and the turn-round of shipping is slow.
Australian manufacturers have welcomed` the advent of longdistance road transport. For an inclusive sum and the minimum of clerical effort, they can have goods carried direct over distances up to 1,000 miles without the need for • double handling and with slight risk • of loss or damage. Road transport is also cheaper and quicker than the railways.
Naturally, the Government-owned railways have registered alarm, but are loath to admit their incompetence to meet increasing demands. In every State a penal permit tax is levied on hauliers. In New South Wales this yielded over £750,000 in 1949-50---a sum which was paid over to the railways and not expended on the upkeep of the highways.
Taxation, indeed, is the principal problem of the Australian road haulage industry,. which carries many thousands of tons of goods each week and is rendering admirable service. A continual fight is being waged against the penal extraction of revenue by both State and Federal Governments in registration fees, fuel, road, sales and ton-mile taxes, and customs duty on imported vehicles. Hauliers are aggrieved not so -Much by the --amount collected (EA40rii. a. year) as by the allocation of less than half of it to themainteriance of the highways.
There are other Matters that cause concern .to Australian.operators,.one of which Is the .deplorable condition of the road surfaces.-. There is also
a certain instability in the industry because of the lack of a well-defined Government policy. Delays in loading and parking are practical difficulties. The two chief hauliers' federations, the Master Carriers' Association and the Australian Long Distance Hauliers' Association feel that by persistent effort these problems will be overcome, but that it will take a long time. • Operators prefer to employ middle-aged family men as drivers, because they are more stable and responsible than younger men. Hauliers are always willing to comply with trade-union requirements and in many cases pay wages higher than union rates. There have been extremely few labour disputes.
Again quoting the case of New South Wales, it being the State with the biggest population, the local branch of the Australian Road Transport Workers' Union boasts 40,000 members, 5,000 of whom are owner-drivers. Conditions laid down provide for a 40-hour week with 20 hours' maximum overtime, and a subsistence allowance of £1 is. a day, recently increased from 16s. 6d. Annual holidays, sick leave and workers' compensation are covered by the law, The Australian road transport worker considers himself different from those in other industries, In his ranks are seldom found the clockwatcher or the drone. He regards the inability to load or unload on schedule as a great offence.
A driver is apt to become irritable in the cities, because of wharf and warehouse delays and general traffic congestion, but once out on the open road he becomes a different being.
A34 I recently accompanied a driver on a 2,000-mile trip from Sydney to Adelaide and back, carrying a 20-ton load of electrical equipment. The vehicle was an International articulated outfit. The journey was an excellent opportunity to study the driver at work. Regulations were always faithfully obeyed and every courtesy was disptayed.
On the trip 1 came across instances of practices strongly condemned by the unions—driving for more than five hours without rest, sleeping under vehicles, over-indalgence in alcohol and the taking of benzedrine tablets. These practices', however, were found only among the ownerdrivers—young men who, having invested in a vehicle, are all out to earn the £100 a week available to the haulier who will carry two 15-20ton loads from one State to another, involving 'driving 2,000 miles in five or six days.
Such work is gruelling, even for
the young and healthy. It is deplored by the unions, although they do not wish to discourage enterprise. The impairment of health, the damage to roads and vehicles, and the raising of the risk of road accidents that inevitably follow are too high a price, even if industry does call for the magnificent service which road transport is giving.
The Australian driver never meets fog, except on rare occasions in coastal districts. He will never pass a fellow-driver in distress and is a friend to the hitch-hiker. The typical driver is a genial fellow with a ready smile and a huge appetite.
No heavy-duty vehicles are yet made in Australia, but there is the McGrath trailer which costs £A850 for the 10-ton model and £A1,000 for the 12-15-ton type. British and American vehicles are widely employed, the most prominent British makes being A.E.C., Albion, Atkinson, Dennis, Leyland and Thorn ycroft. International, Mack and White are worthy representatives of the U.S.A.
Australian road transport is in a period of transition and the congestion on, and damage to, highways are giving rise to serious thought.
Although competition between free-enterprise road haulage and the Government railways is rife, and there are certain policies with which the Australian haulier disagrees, there is no suggestion of a business war. The two Government departments concerned, Road Transport and Main Roads, .are most helpful. The haulier respects them and feels they are his.
The policies he opposes are traceable to Governmental sources and it is against these that he is working, irrespective of the political party in power.