New Vans for the Food Trade
28th September 1951
Page 36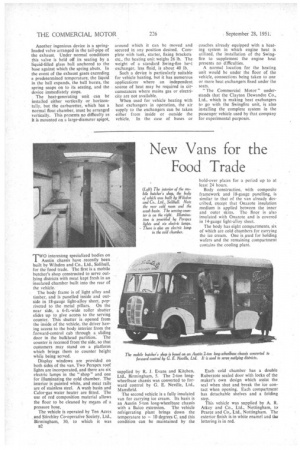 Page 36, 28th September 1951 —
New Vans for the Food Trade
Close
TW0 interesting specialized bodies on Austin chassis have recently been built by Wilsdon and Co., Ltd., Solihull, for the food trade. The first is a mobile butcher's shop constructed to serve outlying districts with meat kept fresh in an insulated chamber built into the rear of the vehicle.
The body frame is of light alloy and timber, and is panelled inside and outside in 18-gauge light-alloy sheet, popriveted to the metal pillars. On the near side, a 6-ft.-wide roller shutter slides up to give access to the serving counter. This shutter is opened from the inside of the vehicle, the driver having access to the body interior from the forward-control cab through a• sliding door in the bulkhead partition. The counter is recessed from the side, so that customers may stand on a platform which brings them to counter height while being served.
Display windows are provided on both sides of the van. Two Perspex roof lights are incorporated, and there are six electric lamps in the "shop" and one for illuminating the cold chamber. The interior is painted white, and meat rails are of stainless steel. A wash basin and Calor-gas water heater are fitted. The use of red composition material allows the floor to be cleaned by means of a pressure hose.
The vehicle is operated by Ten Acres and Stirchley Co-operative Society, Ltd., Birmingham, 30, to which it was B2 supplied by R. 1. Evans and Kitchen, Ltd., Birmingham, 5. The 2-ton longwheelbase chassis was converted to forward control by G. E. Neville, Ltd., Mansfield.
The second vehicle is a fully insulated van for carrying ice cream. Its basis is an Austin 5-ton long-wheelbase chassis with a Bale° extension. The vehicle refrigerating plant brings down the temperature to — 10 degrees C. and this condition can be maintained by the hold-over plates for a period up to at least 24 hours.
Body construction, with composite framework and 18-gauge panelling, is similar to that of the van already described, except that Onazote insulation medium is applied between the inner and outer skins. The floor is also insulated with Onazote and is covered in 14-gauge light-alloy sheet.
The body has eight compartments, six of which are cold chambers for carrying the ice cream. One is used for holding wafers and the remaining compartment contains the cooling plant.
Each cold chamber has a double Ruberzote sealed door with locks of the maker's own design which assist the seal when shut and break the ice contact when opening. Each compartment has detachable shelves and a folding step.
This vehicle was supplied by A. R. Atkey and Co., Ltd., Nottingham, to Pearce and Co., Ltd., Nottingham. The exterior finish is in white enamel and the lettering is in red.