State Companies Win: Appeal Coining
28th September 1951
Page 34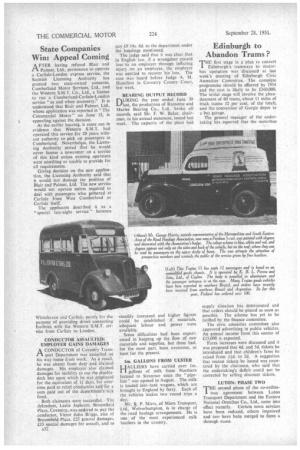 Page 34, 28th September 1951 —
State Companies Win: Appeal Coining
Close
A FTER having refused Blair and f. Palmer, Ltd.. permission to operate a• Carlisle-London express service, the Scottish Licensing Authority has granted two state-owned concerns, Cumberland Motor Services, Ltd., and the Western S.M.T. Co., Ltd., a licence to run a Cumberland-Carlisle-London service "as and when necessary." It is understood that Blair and Palmer, Ltd., whose application was reported in "The Commercial Motor" on June 15, is appealing against the decision.
At the earlier hearing, it came out in evidence that Western S.M.T. had operated this service for 20 years without authority to pick up passengers in Cumberland. Nevertheless, the Licensing Authority stated tilat he would never license a newcomer on a service of this kind unless existing operators were unwilling or unable to provide for all requirements.
Giving decision on the new application, the Licensing Authority said that it would not damage the position of Blair and Palmer, Ltd. The new service would not operate unless required to deal with passengers who gathered at Carlisle from West Cumberland or Carlisle itself.
The applicants described it as a "special late-night service" between Whitehaven and Carlisle, purely for the purpose of providing direet-connecting facilities with the Western S.M.T. service from Carlisle to London, '
CONDUCTOR ASSAULTED: EMPLOYER GAINS DAMAGES
CONDUC1OR of Coventry TransIn. port Department was 'asiaufted on his way home from work. As 'a result, he was absent from duty and claimed damages. His employer also' claimed damages for inability to Use the,clouble7 deck bus upon which he was employed for the equivalent of 1.i day, for oVertime paid to relief conductors arid' for a sum paid out of the departnient's sick fund.
Both claimants were successful. The defendant, Leslie Jepheott; Broomfield Place, Coventry, was ordered to pay tlFt conductor, Victor John Briggs, also of Broomfield Place, £25 general damages, £13 special damages for assault, and to A32 pay £9 14s. 6d. to the department under the headings mentioned.
The judge said that it was clear that in English law, if a wrongdoer caused loss to an employer through inflicting injury on an employee, the employer was entitled to recover his loss, The case was heard before Judge A. M. Hamilton in Coventry County Court, last week.
BEARING OUTPUT RECORD
DUR1NG the year ended June 30 L./last, the production of Ransome and Marles Bearing Co., Ltd., broke all records, said Mr. F. W. Baker, chairman, in his annual statement, issued last week. The capacity of the plant had
steadily increased and higher figures could; be established if materials, 'adequate labour and power were available.
, Some difficulties had been experienced in 'keeping up the flow of raw materials and supplies, but these had, for the most part, been overcome, at least for the present.
1m. GALLONS FROM ULSTER
HAULlERS have carried over lm. gallons of milk from Northern Ireland to Stranraer since the " pipeline " was opened in August. The milk is loaded into 'tank wagons, which are brought to England by ferry. Each of the vehicles makes two round trips a day.
11/1r. R. P. Miers, of Miers Transport, Ltd., Wolverhampton, is in charge of the road haulage arrangements. He is one of the most experienced milk hauliers in the country.