Edinburgh to Abandon Trams ?
28th September 1951
Page 34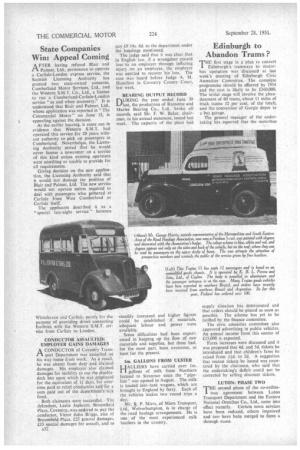 Page 34, 28th September 1951 —
Edinburgh to Abandon Trams ?
Close
THE first stage in a plan to convert Edinburgh's tramways to motorbus operation was discussed at last week's meeting of Edinburgh Civic Amenities Committee. The complete programme should be effected by 1954 and the cost is likely to be £360,000.
• The initial stage will involve the abandonment of 60 trams, about 11 miles of track (some 12 per cent, of the total), and the conversion of Gorgie depot to a bus garage.
The general manager of the undertaking has reported that the motorbus supply situation has deteriorated and that orders should be placed as soon as possible. The scheme has yet to be ratified by the finance committee.
The civic amenities committee also approved advertising in public vehicles. An annual income from this source of £15,000 is expected.
Fares increases were discussed and it was proposed that 4d. and 5d. tickets be introduced and that children's fares be raised from lid. to 2d. A suggestion that season tickets be issued was countered by the chairman, who said that the undertaking's deficit could not be corrected by selling discount tickets.
LUTON: PHASE TWO
THE second phase of the co-ordination agreement between Luton Transport Department and the Eastern National Omnibus Co., Ltd., came into
effect recently. Certain town services have been reduced, others improved and two have been merged to form a through route.