Public Offers E10m. to Perkins
28th September 1951
Page 33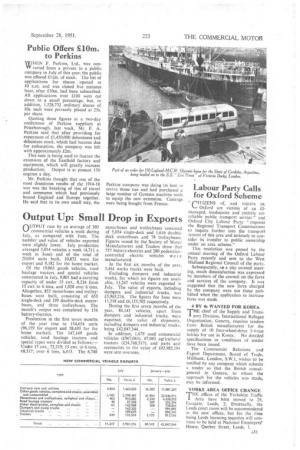 Page 33, 28th September 1951 —
Public Offers E10m. to Perkins
Close
WHEN F. Perkins, Ltd., was conVV verted from a private to a public company in July of this year, the public was offered El 4m. of stock. The list of applications for shares opened at 10 a.m. and was closed five minutes later, after flOm, had been subscribed. All applications over £100 were cut down to a small percentage, but, in addition, 1,528,732 ordinary shares of 10s. each were privately placed at 25s. per share.
Quoting these figures at a two-day conference of Perkins suppliers at Peterborough, last week, Mr. F. A. Perkins said that after providing for repayment of £1,450,000 debentures and debenture stock, which had become due for redemption, the company was left with approximately £2m.
This sum is being used to finance the extension of the Eastfield factory and equipment, which wilt greatly increase production. Output is at present 150 engines a day.
Mr. Perkins thought that one of the most disastrous results of the 1914-18 war was the breaking of ties of travel and commerce which had previously bound England and Europe together. He said that in its own small way, the Perkins company was doing its best to revive those ties and had purchased a large number of German machine tools to equip the new extension. Castings were being bought from France.