Yorkshire Users' Committee
28th September 1951
Page 32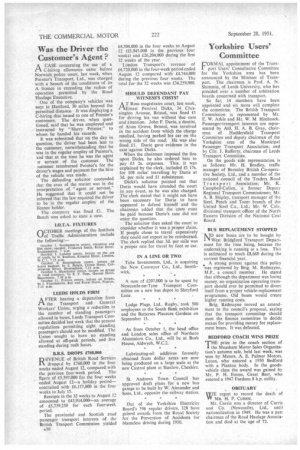 Page 32, 28th September 1951 —
Yorkshire Users' Committee
Close
FORMAL appointment of the Transport Users' Consultative Committee for the Yorkshire area has been announced by the Minister of Transport. The chairman is Prof. A. N. Shimmin, of Leeds University, who has presided over a number of arbitration boards concerned with transport.
So far, 14 members have been appointed and six more will complete the committee. The British Transport Commission is represented by Mr. E. W. Arkle and Mr. W. M Hitchcock. Passenger-transport interests are represented by Aid. H. A. B. Gray, chairman of Huddersfield Transport Committee and deputy chairman of the Yorkshire area of the Municipal Passenger Transport Association, and by Cult-. J. Rafferty, chairman of Leeds Transport Committee.
On the goods side representation is as follows: Mr. H. Bradley, traffic manager of Barnsley British Co-operative Society, Ltd., and a member of the national council of the Traders Road Transport Association; Mr. K. Campbell-Cullen, a former Deputy Regional Transport Commissioner; Mr. A. B. Shipley, transport manager of the Steel, Peech and Tozer branch of the United Steel Co., Ltd.; Mr. W. Cole. divisional transport officer of the North Eastern Division of the National Coal Board.
BUS REPLACEMENT STOPPED
NO new buses are to be bought by West Bridgford Transport Department for the time being, because the undertaking is running at a loss. This is estimated to reach £8,660 during the current financial year.
A strong protest against this policy "was registered by Brig. M. Redmayne, M.P., a council member. He stated that although the department was losing money, no organization operating transport should ever be permitted to divert itself from a proper vehicle-replacement programme. Old buses would create higher running costs.
Brig. Redmayne moved an amendment to the council's proposal, saying that the transport committeg should meet the finance committee to decide means for providing money for replacement buses. It was defeated.
BEDFORD COACH WINS PRIZE
THEprize in the coach section of the Measham Motor Sales Organization's autumn sale, held last week, was won by Messrs. A. E. Palmer Motors, Luton, who entered a 1950 Bedford with a Plaxton body. In the goodsvehicle class the award was gained by Mr. P. H. Emms, Great Barr, who entered a 1947 Fordson 8 h.p. utility.
OBITUARY
wriTE regret to record the death of VT MR. H. P. CURRIE.
Mr. Currie was a director of Currie and Co. (Newcastle), Ltd., until nationalization in 1949. He was a past chairman of the Road Haulage Association and died at the age of 72.
Tags
Organisations
:
Consultative Committee for the Yorkshire
,
British Co-operative Society
,
Leeds Transport Committee
,
Measham Motor Sales Organization
,
Yorkshire Users' Committee
,
Municipal Passenger Transport Association
,
Traders Road Transport Association
,
Transport Users' Consultative Committee for the Yorkshire
,
Leeds University
,
VT MR
,
Road Haulage Association
,
British Transport Commission
,
National Coal Board
,
North Eastern Division
People
:
A. B. Shipley
,
Aid
,
A. N. Shimmin
,
A. B. Gray
,
P. H. Emms
,
H. P. CURRIE
,
E. W. Arkle
,
K. Campbell-Cullen
,
W. Cole
,
J. Rafferty
,
H. Bradley
,
Great Barr