SHOULD DEFENDANT PAY WITNESS'S COSTS?
28th September 1951
Page 32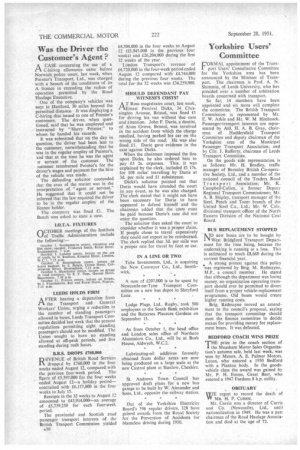 Page 32, 28th September 1951 —
SHOULD DEFENDANT PAY WITNESS'S COSTS?
Close
AT Ross magistrates court, last week, Ernest Percival Dicks, 34 Chessington Avenue, Bristol, was fined £1 for driving his van without 'due care and attention. John F. Dune, a dentist, of Avon Grove, Bristol, was involved in the accident from which the charge resulted, having parked his car on the Wrong side of the road. He was also fined £1. Dune gave evidence in the case against Dicks.
When the chairman imposed the fine upon Dicks, he also ordered him to pay £3 2s. expenses. This, it was explained by the clerk, included £1 17s. for 108 miles' travelling by Dune at 3d. per mile and £1 subsistence.
Dicks's solicitor pointed out that Dune would have attended the court in any event, as he was also charged. The clerk stated that it might not have been necessary for Dune to have appeared to defend himself and the chairman added that the 'costs must be paid because Dune's case did not enter the question.
The solicitor then asked the court to consider whether it was a proper claim. If people chose to travel expensively they could not expect to be reimbursed. The clerk replied that 3d. per mile was a proper rate for travel by foot or car.