Upward Trend in Fares
28th September 1951
Page 31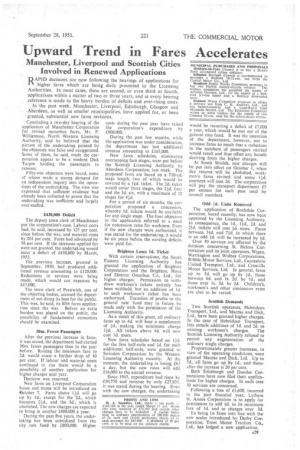 Page 31, 28th September 1951 —
Upward Trend in Fares
Close
Manchester, Liverpool and Scottish Cities Involved in Renewed Applications
RARID decisions are now following the hearings of applications for higher fares which are being daily presented to the Licensing Authorities. In most cases, these are second, or even third or fourth, applications within a matter of two or three years, and at every hearing reference is made to the heavy burden of deficits and ever-rising costs.
In 'the past week, Manchester, Liverpool, Edinburgh, Glasgow and Aberdeen, as well as smaller municipalities, have applied for, or been granted, substantial new fares revisions.
• Concluding a two-day hearing of the application of Manchester Corporation for revised motorbus fares, Mr. F. Williamson, North Western Licensing Authority, said he believed that the picture of the undertaking painted by the objectors was false and exaggerated. Some of them, he said, made the corporation appear to be a modern Dick Turpin holding the passengers to ransom.
Fifty-one objectors were heard, some of whom made a strong demand for an independent inquiry into the operations of the undertaking. The view was expressed that sufficient evidence had already been collected to prove that the undertaking was inefficient and largely over-staffed.
1430,000 Deficit The deputy town clerk of Manchester put the corporation's case. Labour costs had, he said, increased by 127 per cent. since before the war, and material costs by 201 per cent. Fares had advanced by 56 per cent. If the increases applied for were not granted, the undertaking would incur a deficit of £430,000 by March, 1953.
The previous increase, granted in September, 1950, had produced additional revenue amounting to £120,000. Reductions in services were being made, which would cut expenses by £47,000, The town clerk of Prestwich, one of the objecting bodies, accused the department of not doing its best for the public. This was, he said, its fifth fares application since the war. Before an extra burden was placed on the public, the possibility of fundamental economies should be examined.
30m. Fewer Passengers After the previous increase in fares, it was stated, the department had carried 30m. fewer passengers than in the year before. Raising the minimum fare to 2d. would cause a further drop of 10 per cent, if labour and material costs continued to rise there would be a possibility of another application for higher charges next year.
Decision was -reserved.
New fares on Liverpool Corporation buses and trams will be introduced on October 7. Fares above ltd. will go up by id., except for the 2d., which becomes 20. and the 3d., which is abolished. The new charges are expected to bring in another £400,000 a year.
During the past five years, the undertaking has been subsidized from the city rate fund by £800,000. Higher costs during the past year have raised the corporation's expenditure by 000,000.
During the past few months, while the.application was under consideration, the department has lost additional revenue amounting to 1167,000.
New fares schedules, eliminating overlapping fare stages, were put before the Scottish Licensing Authority by Aberdeen Corporation, fast week. The proposed fares are based on a 750-yd. stage length, two of which would be covered by a lid. ticket. The 2d. ticket would cover three stages, the 20, four and the 3d. six, with a maximum of 12 stages for 4.0.
For a period of six months, the corporation proposed a concession, whereby Id. tickets would be available for any single stage. The four objectors to the application referred to a need fOr concession rates for workmen. Even if the new charges were authorized, it was stated for the undertaking, it would be six years before the existing deficits were paid for.
Brighton Loses id. Ticket With certain reservations, the South Eastern Licensing Authority has granted the application of Brighton Corporation and the Brighton, Hove and District Omnibus Co., Ltd., for higher charges. Permission to withdraw workmen's tickets entirely has been withheld, but an addition of Id. to each workmen's ticket has been authorized. Transfers of profits to the general rate fund may in future be made only with the permission of the Licensing Authority.
As a result of this grant, all ordinary fares up to 4d. will bear a supplement of id., making the minimum charge lid. All tickets above 4d. will now cost Id. more.
New fares schedules based on lid. for the first half-mile and id, for each additional half-mile, were granted to Swindon Corporation by the Western Licensing Authority recently. At the moment, the undertaking is losing £63 a day, but the new rates will add £16,000 to the annual revenue.
Since 1945, expenditure had risen by £50,750 and revenue by only £27,931, it was stated during the hearing. Even with the new charges, the undertaking would be incurring a deficit of £7,000 a year, which would be met out of the general rate fund. It was the intention of the department, however, not to increase fares so much that a reduction in the numbers of passengers carried would result and thus offset any benefit deriving from the higher charges.
At South Shields, new charges will be put into effect on October 1, when day returns will be abolished, workmen's fares revised and some 11d. journeys will cost 2d. The corporation will pay the transport department £5 per annum for each pass used by council members.
Odd Id. Units Removed The application of Rochdale Corporation, heard recently, has now been approved by the Licensing Authority. In consequence, the Id., ltd., 2d. and 21d. tickets will cost id. more. Fares between 3fd. and 71d. in which there Is an odd 4d. will be increased by id. Over 50 services are affected by the decision concerning St. Helens Corporation and its joint operators, Wigan, Warrington and Widnes Corporations, Ribble Motor Services, Ltd., Lancashire .United Transport, Ltd., and Crosville Motor Services, Ltd. In general, fares up to 5d. will go up by id., those between 6d. and Is. 2d. by Id., and those over Is. 3d. by 2d. Children's, workmen's and other concession rates are also to be varied.
Scottish Demands Two Scottish operators, Hebridean Transport, Ltd., and Macrae and Dick, Ltd.. have been granted higher charges. In the case of Hebridean Transport, this entails additions of Id. and 2d. to existing workmen's charges. The Scottish Licensing Authority refused to permit any augmentation of the ordinary single charges.
Proportionately greater increases, in view of the operating conditions, were granted Macrae and Dick, Ltd. Up to 5d., all fares go up by Id., and thereafter the increase is 20 per cent.
Both Edinburgh and Dundee Corporations have now filed their applications for higher charges. In each case 30 services are concerned.
Following a loss of £1,600, incurred in the past financial year, Lytham St. Armes Corporation is to apply for permission to add id. to its minimum fare of .1d. and to charges over 3d.
To bring its fares into line with the new scales introduced by Derby Corporation, Trent Motor Traction Co., Ltd., has lodged a new application.