Persia Courts Transport Trouble
28th September 1951
Page 30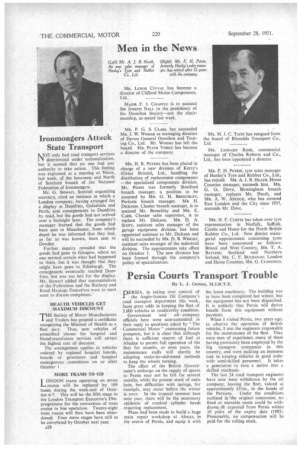 Page 30, 28th September 1951 —
Persia Courts Transport Trouble
Close
• By L. J. Cotton, M.I.R.T.E.
DERSIA, in taking over control of ..1 the Anglo-Iranian Oil Company's
• road transport department this week, faces great odds in keeping the fleet of 3,600 vehicles in roadworthy condition.
Government and oilcompany officials here were non-committal in their reply to questions asked by "The Commercial Motor" concerning future prospects, but it is clear that although there is sufficient reserve of fuel at Abadan to permit full operation of the fleet for months, or even years, the maintenance staffs will shortly be adopting make-do-and-mend methods to keep the wheels turning.
The effect of the British Government's embargo on the supply of spares to Persia may not be felt for several months, while the present stock of units lasts, but difficulties with springs, for example, may occur before the winter is over. In the tropical summer heat next year, there will be the customary epidemic of cracked cylinder heads requiring replacement.
Plans had been made to build a huge main repair workshop at Ahwaz, in the centre of Persia, and equip it with the latest machinery. The building was tn have been completed last winter, but the equipment has not been dispatched. It is unlikely that Persia will derive benefit from this equipment without payment.
When I visited Persia, two years ago, to observe the operation of British vehicles, I met the engineers responsible for the maintenance of the fleet. They were men of experience, many of them having previously been employed by tho. big transport companies in this country, and were tackling an immense task in keeping vehicles in good order with semi-skilled personnel. It takes a generation to turn a native into a skilled mechanic.
The last 24 road transport engineers have now been withdrawn by the oil company, leaving the fleet, valued at approximately 1 lm., in the hands of the Persians. Under the conditions outlined in 'the original concession, no fixed or movable assets could be withdrawn eft exported from Persia within 10 years of the expiry date (1993). Presumably, no compensation will be paid for the rolling stock.